Home improvement aims not just to transform your space but to guarantee a significant recoup. The bathroom is one of the most frequently used parts of your house and has great potential to add resale value to your home. By knowing about effective upgrade ideas and hiring the right bathroom remodeling contractor, you can significantly boost the value of your home.
According to Remodeling Magazine, the average bathroom remodeling returns almost 60% of the investment. Therefore, you should plan to upgrade your bathroom before listing your home. Here are a few effective tips to get the most value out of your bathroom remodel.
Know about Remodeling Trends:
Before laying out a plan for any remodeling project, you should learn about the latest trends in your area. If you are planning for a bathroom remodel in Los Angeles or a kitchen remodel in Los Angeles, explore your neighborhood's bathroom and kitchen designs to get an idea of contemporary trends.
Prefer Cosmetic Updates:
Cosmetic upgrades will yield more bang for your buck than a full-fledged gut renovation, especially if the bathroom is very old. Ideas that will aid your cosmetic upgrades are;
Bright color scheme: Painting a bathroom is a simple and affordable option, but your choice of color makes a huge difference. Dark colors might put off the home-buyers, so choose bright colors but avoid anything flashy for the color.
Fixture Replacement: From door knobs to faucets to lighting, changing your bathroom fixtures will go a long way.
Crown Molding: Crown molding is another simple bathroom update that reflects a luxury appearance.
Tub to Shower Conversion: Most people skip tubs in favor of showers. Therefore, you can install a new shower unit custom-designed to fit your existing space.
Opt for Space-Saving design:
Increasing the square footage is not the only way to maximize your space, there are plenty of other options to enhance space. Here are a few ideas to consider.
Vanity Upgradation: Opt for a double sink vanity with multiple cabinets to improve functionality and enhance storage space. Add a granite countertop with trendy sinks and faucets to get more resale value.
Walk-in showers: Discover the elegance of Gatsby Glass shower doors when it comes to walk-in showers. Opting for a compact walk-in shower not only saves you time but also maximizes space utilization. Pairing it with sleek glass shower doors creates an illusion of spaciousness, making your bathroom appear larger and more open.
Hand-held showerheads: Adding hand-held showerheads and faucets will ensure a better bathing experience and make it easy to bathe children and pets.
Focus on Repairs & Replacements:
A worn-out washroom with yellowing grouts and leaky plumbing is definitely not a place to start and end your day. Here are a few replacements to consider:
Fix Leaks: You can save up to 10 percent on your water bill by fixing water leaks in your home, according to the Environmental Protection Agency. Water leakage also welcomes molds and mildew. Therefore, deal with molds and mildew before renovating your bathroom, and choose materials that are easy to clean, such as glass and acrylic.
Inefficient fixtures Removal: Efficiency upgrades add significant value to your property. Energy-efficient lighting, water-saving toilets and faucets, and other eco-friendly options can save you a few dollars on utilities.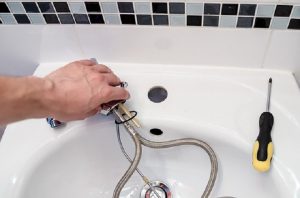 Consider Accessibility Improvements:
Your bathroom can be a dangerous place, especially for aged persons. Therefore, investing in smart and elderly-friendly upgrades is definitely a wise idea. This makes your place stand out from the rest when a home buyer visits your place. Some ways to incorporate smart accessibility in your bathroom are;
Grab bars: Installing additional grab bars at the sides of toilets, showers, or tubs will offer enhanced stability.
Raised toilet seats: Such seats help you prevent strain on your back and knees.
Adjustable vanity: Adjusting your vanity to the height of users reduces strains and allows walker and wheelchair access.
Walk-in tubs: These reduce the risk of falling by stepping over tub sides.
Final Words:
Bathroom remodeling is a valuable investment, but you should plan it strategically. Spending thousands of dollars on showers and countertops while ignoring the age-old tiles of your bathroom is an unwise idea. Similarly, making an effective renovation plan only to deliver it in the hands of an unprofessional bathroom or kitchen remodeling contractor is also a no-brainer. Therefore, you should carefully decide on every part of your renovation.