If you're looking for ways to get the most out of your pool and outdoor living space, one easy addition can increase your home's value and create a more cohesive and enjoyable space. A pool bathroom not only makes your outdoor space more enjoyable, but it helps keep your home clean and provides the perfect transition area for all your pool time fun.
In this article, I will explain the meaning of pool bathroom and outdoor pool bathroom, and also provide you with 20 stunning design ideas for outdoor pool bathrooms.
What Is A Pool Bathroom?
If you've asked the question, "What do you call a bathroom by the pool?" you'll be pleased to know the answer is simple, it's called a pool bathroom! Pool bathrooms provide your guests with access to the facilities without walking through your home. Depending on the fixtures you include, it can also be used to rinse before or after pool time, dry clothes and towels, wash chlorinated laundry, and more!
Read more: What You Need To Know Before Buying A Shower Standing Handle?
What Is An Outdoor Pool Bathroom?
An outdoor pool bathroom is a freestanding facility that can also double as a changing room. It often includes a shower, toilet, sink, and bench area, making it the perfect addition to any outdoor space. Outdoor pool bathrooms are an excellent option for those seeking to add value and convenience to their pool area without the high costs associated with an extensive in-home bathroom addition. The best part about outdoor pool bathrooms is their flexibility; sizes and designs vary, and there are even diy outdoor pool bathroom kits available for those seeking to save money, roll up their sleeves, and do the job themselves.
Can You Add A Bathroom To A Pool House?
It is absolutely possible to add a bathroom to a pool house if you already have an existing structure. You will first want to decide on the pool house bathroom layout, either on your own or with the help of a contractor. When mapping out your design, be sure to keep the following tips in mind:
Ensure easy access for guests by adding a door that opens into the pool area.
Choose only moisture-resistant materials.
Add venting fans to remove excess moisture and humidity.
Utilize storage by adding retractable hanging clotheslines, shelves, and hooks.
Understanding the available space, utilizing clever storage ideas, and creating a fun theme are easy ways you can make your outdoor pool an inviting and useful part of your home. If you're ready to take your pool area to the next level, check out the 20 best outdoor pool bathroom ideas guaranteed to add value and create a relaxing retreat your family and guest will adore.
The 20 Best Outdoor Pool Bathroom Ideas
Below are some of the creative and stunning outdoor bathroom ideas shared that you can try near your pool area for the purposes of toileting, showering, and cleaning clothes.
1. Create Multiple Stalls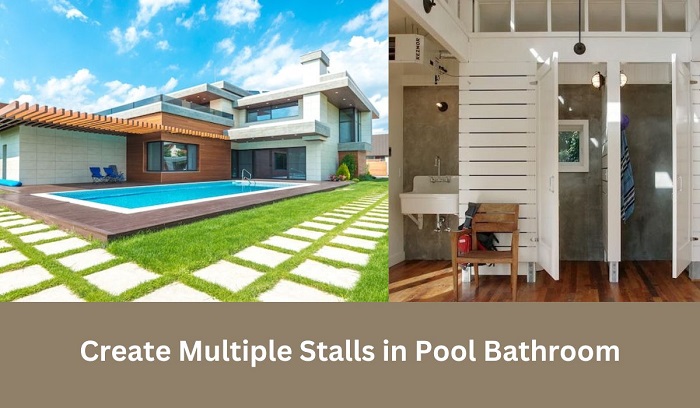 If you routinely have multiple guests, adding several bathroom stalls will ensure everyone can access the facilities when needed. Use wooden slats for separation and privacy for an inclusive space everyone will appreciate.
2. Make A Multi-Purpose Space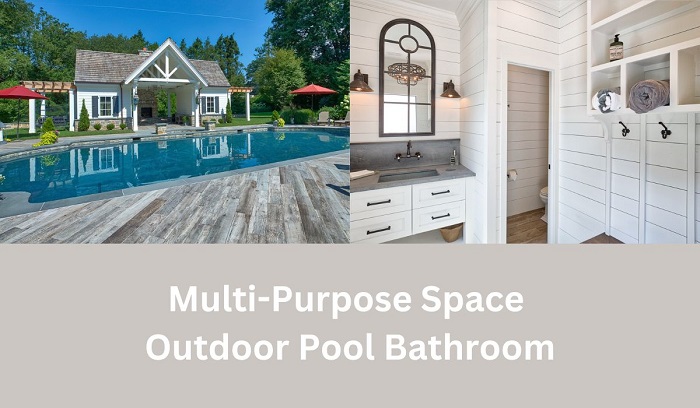 If you entertain a lot, using your pool bathroom as a multi-purpose space is an excellent way to get the most bang for your buck, Consider adding shelving and seats for maximum storage and to give your guests a place to get ready before and after pool time.
3. Adding Separate Sections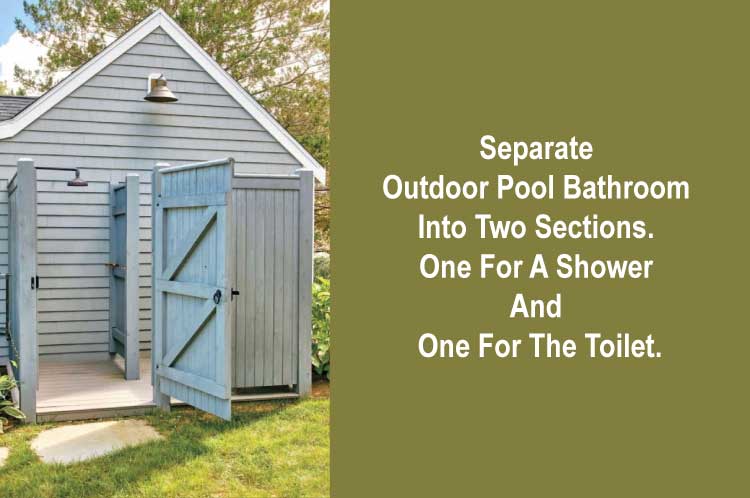 Adding separate stalls is an easy and economical way to separate your outdoor pool bathroom into sections. Use one for a shower and one for the toilet to provide privacy while still maintaining a light and open feel.
4. Re-Imagine An Existing Space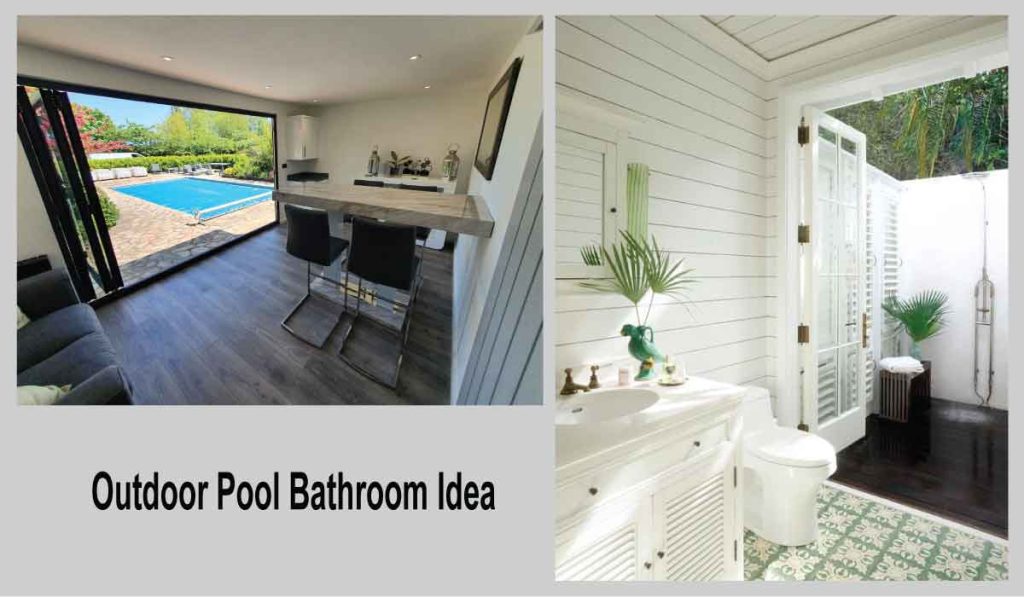 If you are short on space or want an easy diy outdoor pool bathroom option, consider adding a barrier wall to your home or any existing structure. Re-imagining an existing area, like the corner of a patio, is a great way to save space and keep costs low without sacrificing style or function.
5. Get a Creative Outdoor Pool Bathroom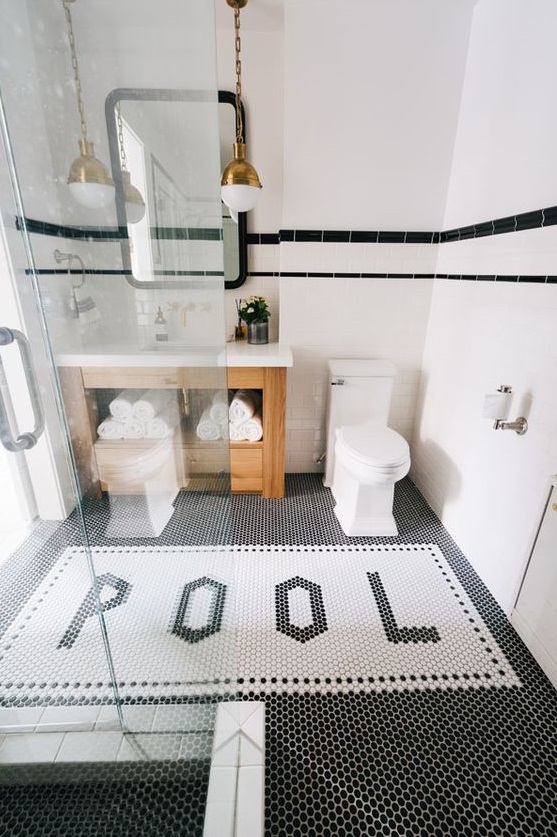 This is one of the stunning outdoor toilet ideas for the pool area. Have fun with your space by adding design elements like custom floor tiles. Why not add a fun word to the tile or place bathroom signs on the wall? Bringing in elements of the pool will make it enjoyable, elevating the room and continuing with the vacation theme.
6. Go With A Beach House Feel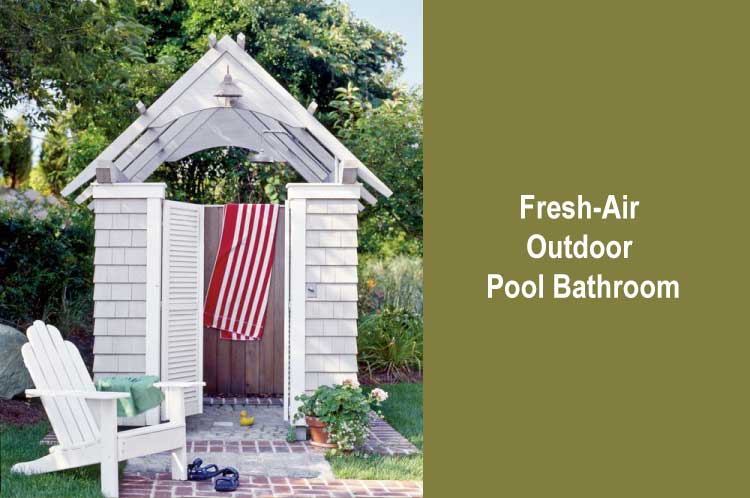 Nothing beats the look and feel of a beach house, so bring that vacation feel home by creating an airy and open outdoor pool bathroom. Shaker siding, rustic elements, and light colorways will make your guests feel like they are in the Hamptons on vacation or visiting Martha's Vineyard for the weekend!
7. Keep It Light And Airy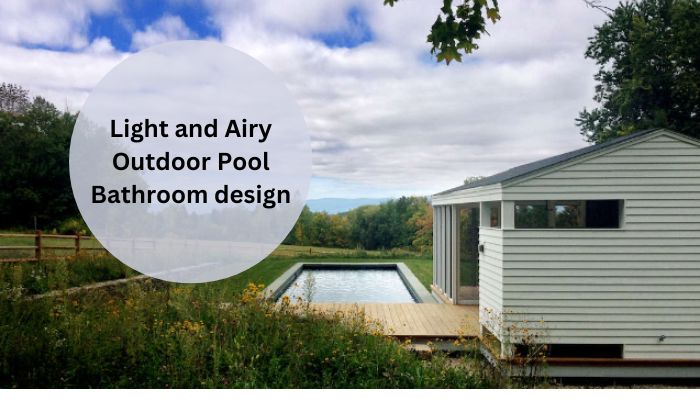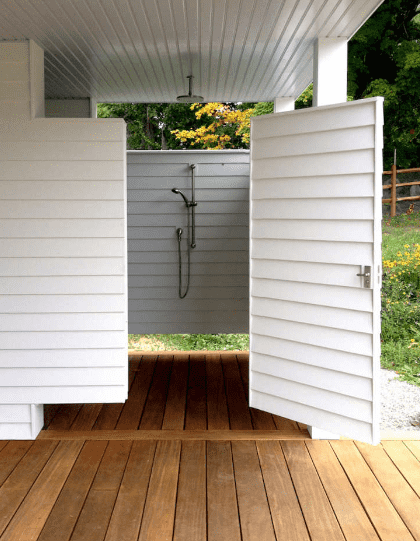 Using windows and open-concept architecture will make your pool bathroom feel light and airy, allowing it to feel like an extension of your home. Consider creating a joint area that combines living space with a bathroom for the ultimate outdoor retreat.
8. Add A Rain Showerhead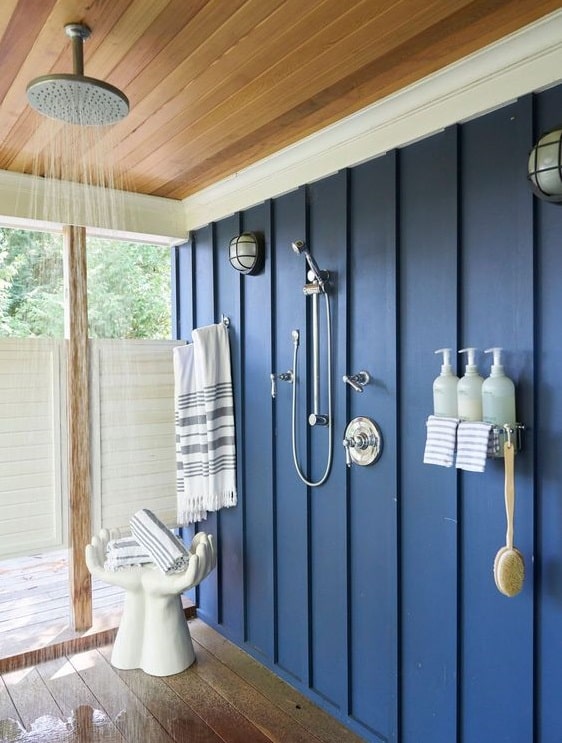 Just because it's a pool bathroom doesn't mean you can't add luxurious elements. Instead of a normal showerhead, why not try a rainshower for a relaxing and unique alternative? Since these fixtures are often found in high-end resorts, they are a relatively inexpensive way to increase the value of the space while creating an immersive and relaxing experience for your guests.
9. Add Natural Elements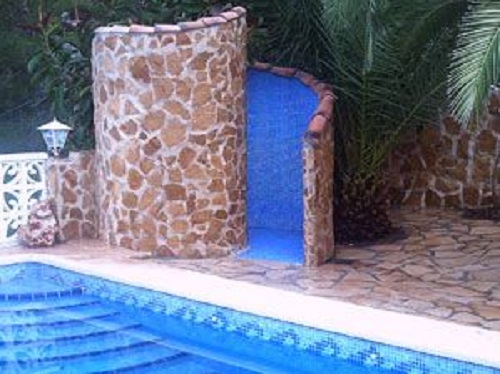 Adding natural elements like stone is an excellent way to elevate your outdoor pool bathroom while adding warmth. Using a wrap-around design will provide privacy while still keeping a clean, simplistic look and feel to the space. There are many types of stone available to fit the style of your home, ensuring you have endless customization possibilities.
10. Convert A Pergola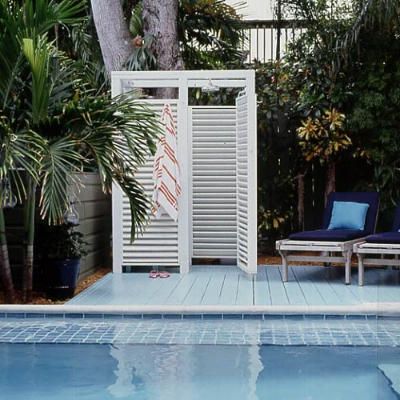 Pergolas make a great base for any bathroom addition allowing you to quickly and easily add a structure to even smaller spaces. If you don't want to hire a plumber, you can use a hose to bring running water for an effective shower and hand-washing space your guests will love.
11. Utilize Cubbies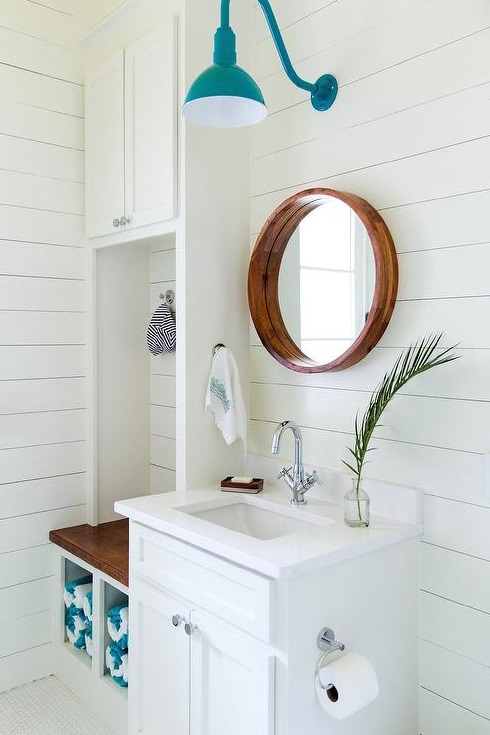 If you have a small outdoor pool bathroom, utilizing every nook and cranny is important. One easy and inexpensive option is adding cubbies in spaces that would otherwise remain unused. Consider placing them below a bench to create a useful sitting area that provides easy access to essentials like towels, shoes, pool gear, and more.
12. Use Contrasting Colors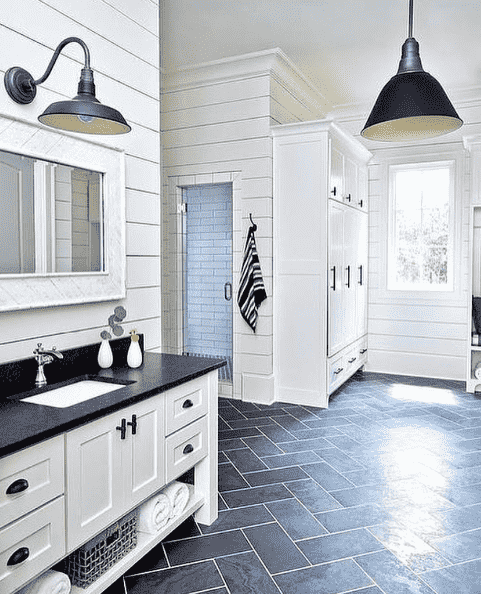 Contrasting colors are a great option in outdoor pool bathrooms as they add drama and create a luxurious feel. Consider using a darker color on the floor to hide dirt, create depth, and make the space feel larger.
13. Create A Urinal Sink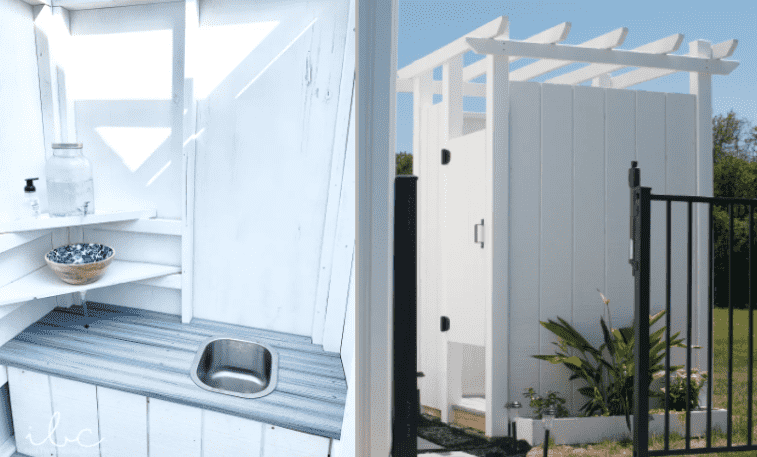 If you're looking for ways to keep costs low and create an outdoor pool bathroom without adding plumbing, consider creating your own urinal sink. Using readily accessible materials, you can construct this standalone structure complete with a handwashing station without the cost and hassle of hiring a plumber.
14. Combine Modern With Rustic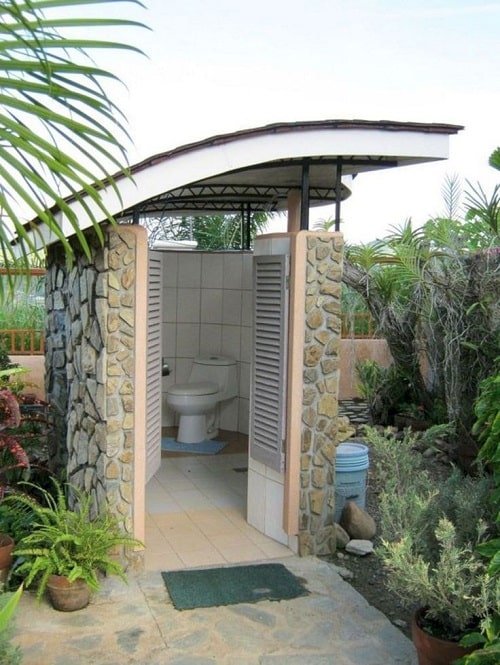 One of the best outdoor toilet ideas for the pool area is to get creative with your design. Don't be afraid to pair modern details with rustic designs, mixing and matching textures and materials to create a one-of-a-kind space.
15. Transform a Shipping Container or Shed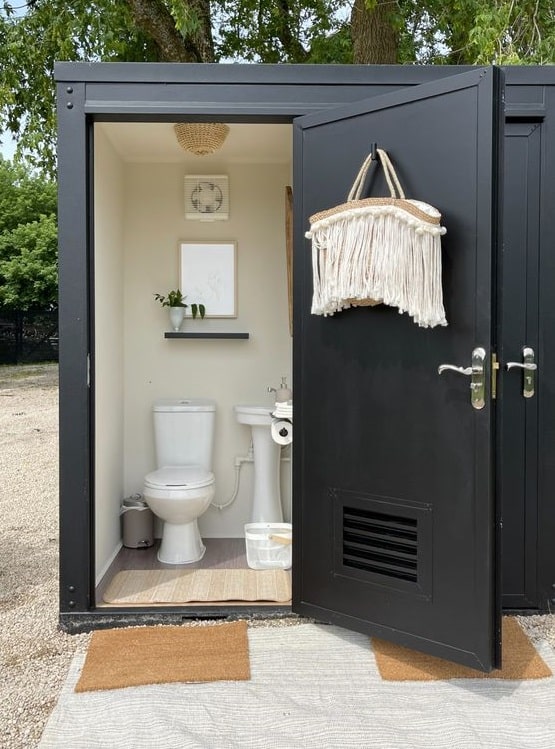 This design can be another example of a stunning outdoor toilet for the pool area. Shipping containers and sheds make excellent structures for an outdoor pool bathroom, so you don't have to start from scratch. Simply adding plumbing creates a useful outdoor space that is beautiful, functional, and fully customizable!
16. Embrace An Open Concept Design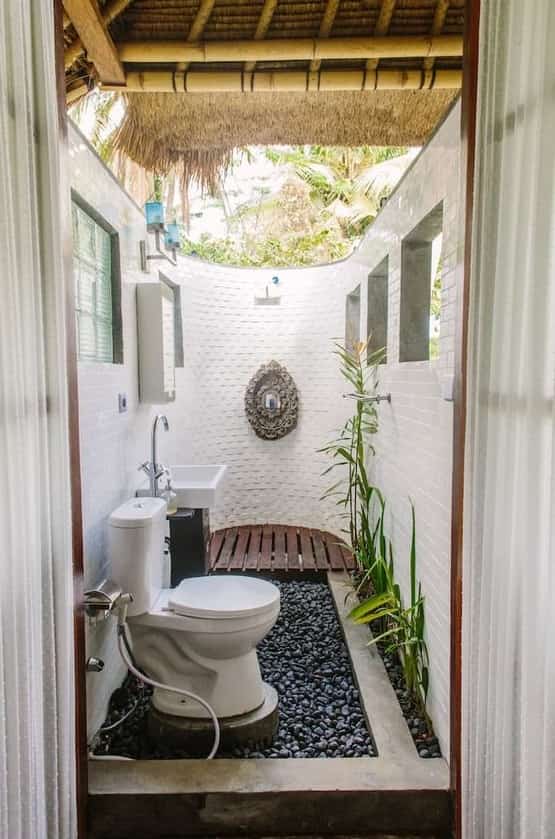 Pool bathrooms can easily feel like a cave or dungeon since they are typically on the smaller side. Keep yours feeling light and airy by letting in as much natural light as possible through windows and doors. Creating an open-topped space will let in ample light, making the room feel airy. If privacy is a concern, you can always add blinds or a curtain to make your guests more comfortable.
17. Use Reclaimed Materials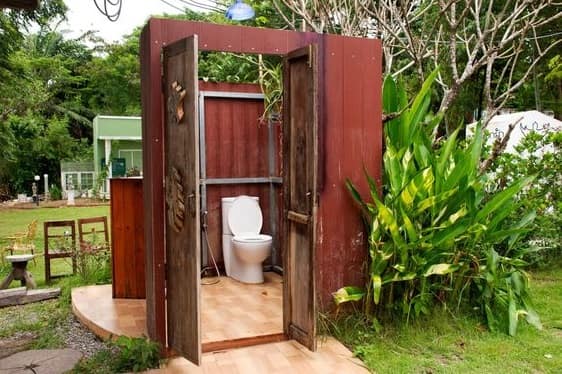 If you're looking to keep costs low, consider using reclaimed or recycled materials in your outdoor pool bathroom. Scrap wood is an excellent option since it is inexpensive and readily available at many home improvement stores.
18. Add Color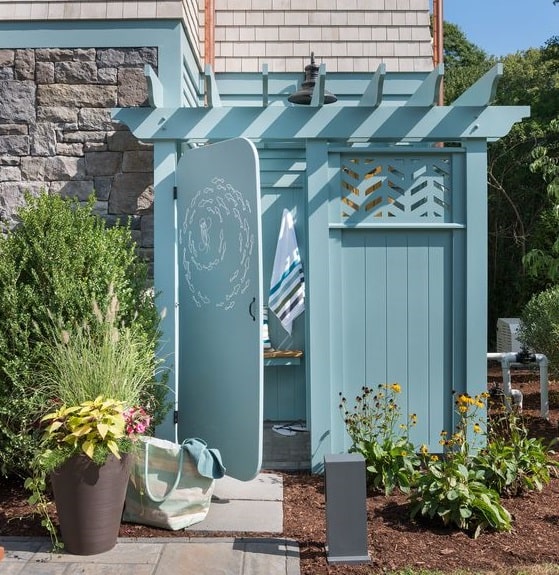 Don't be afraid to add color to your pool bathroom. Using paint to create a bold accent or introduce a splash of color can make the area feel more fun and playful and give it a "vacation feel." Consider using a singular all-over color, or mix it up with two or more. There's no right or wrong way to do it; as long as it brings a smile to your face, that's all that matters.
19. Use Unique Storage Pieces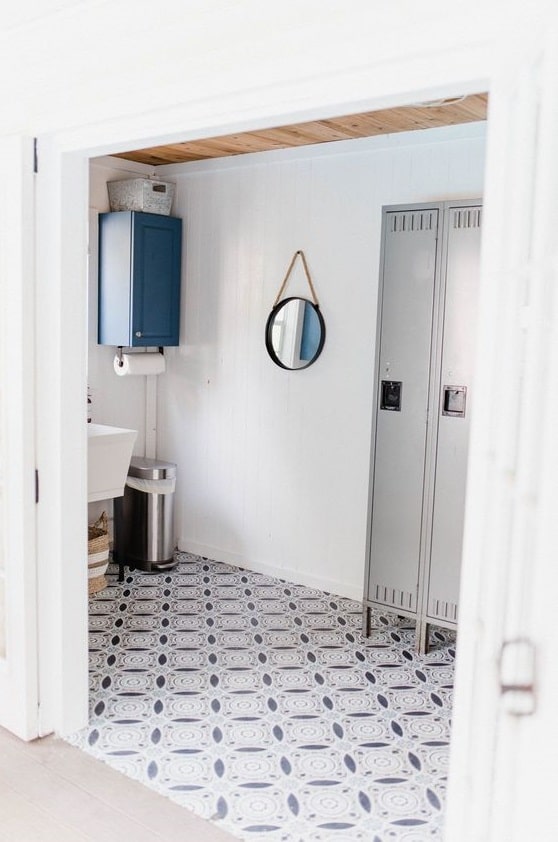 Just because it's a bathroom doesn't mean you have to use boring fixtures and storage options. Choose unique pieces like lockers or dressers to add a touch of whimsy while providing extra storage. Don't worry if an item was used for another purpose previously; get creative and repurpose it to make it work for you. Not only will it make your bathroom look incredible, but it's a great way to care for the environment and practice sustainability.
20. Keep It Simple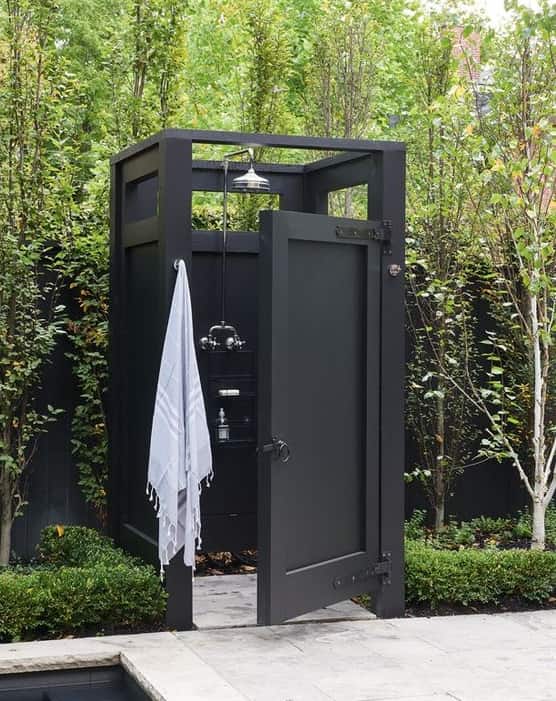 If you don't want to add a full bathroom, keep it simple by starting with a shower. Outdoor showers are an excellent addition to any pool allowing guests to rinse off before entering, which keeps the pool clean, and after so they can feel fresh!
Conclusion
Make your outdoor space unforgettable with these 20 best outdoor pool bathroom ideas. You can create a relaxing oasis for family and friends that is welcoming, inviting, and perfect for use year-round!