If you are a resident of the UK and living in a residential area, you may be thinking about how to decorate your residential areas. Decorating and maintaining your landscape will be difficult, especially if you are not hiring a gardener. But it can be solved if you use artificial grass and get ideas to design your residential landscape. Artificial grass is one of the best, easy-to-maintain, and cost-saving products. The use of article grass in residential areas is increasing day by day. You can easily decorate your front yard, backyard, or any other outdoor landscape in your residential area. But before that, you need to measure your yard and choose a suitable theme for your house.
If you are looking for some stunning artificial grass ideas to beautify your landscape, look no further. In this article, I will share the best 24 design ideas to beautify residential landscaping with artificial grass.
24 Artificial Grass And Residential Landscaping Ideas in UK
1. Gathering Area with Artificial Grass in a Residential Landscape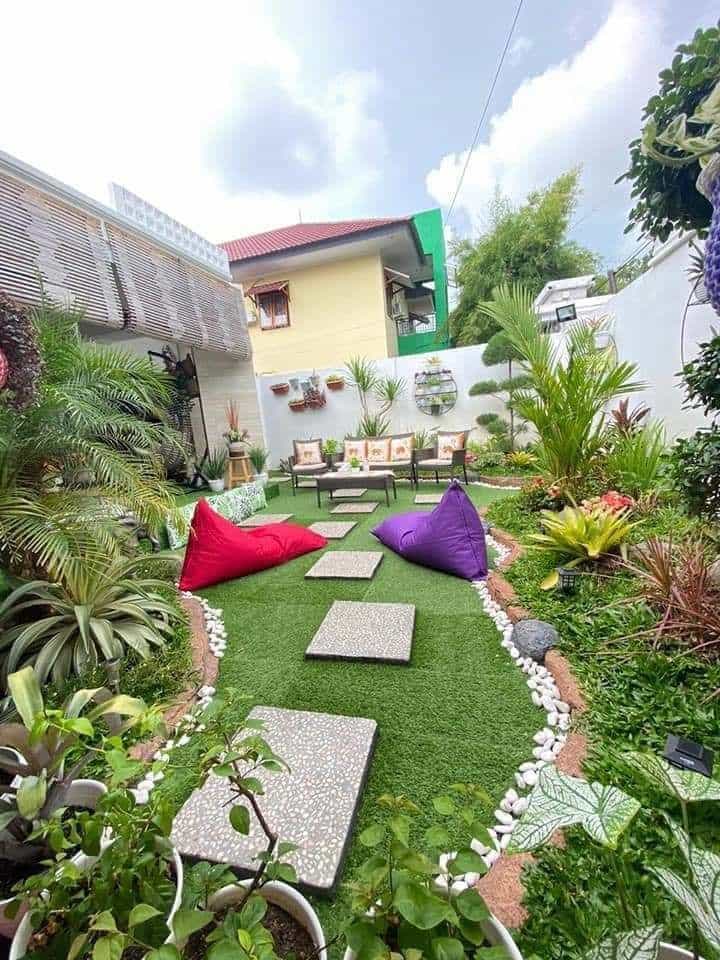 Bean bags can't go wrong in a garden area. The garden is designed with walkways surrounded by plants, letting it feel cosy. This garden can be a family gathering area while playing board games. It's both fun and relaxing.
2. Shady and lush garden design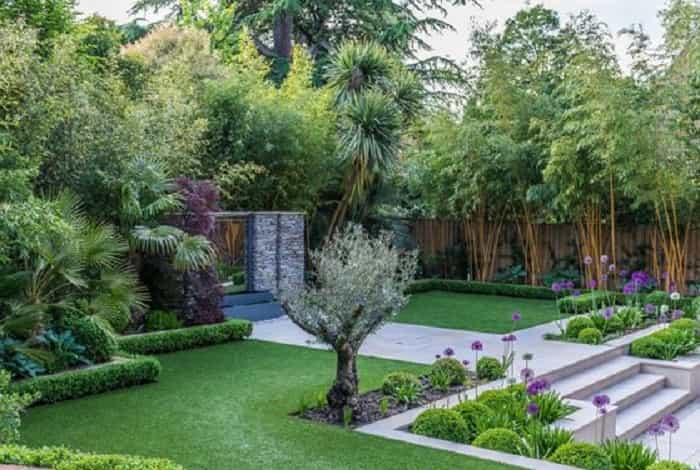 Lastly, this design is perfect for the front and backyard of your home. This design keeps your home private from the neighbourhood. The tall trees surrounding the yard give the garden a shady and lush feel. If you try to recreate this design for your front yard, guests will be amazed when they come to your house for the first time. However, this garden will be a beautiful secret garden with limited access if you design it for your backyard.
3. A vertical garden with Greeny elements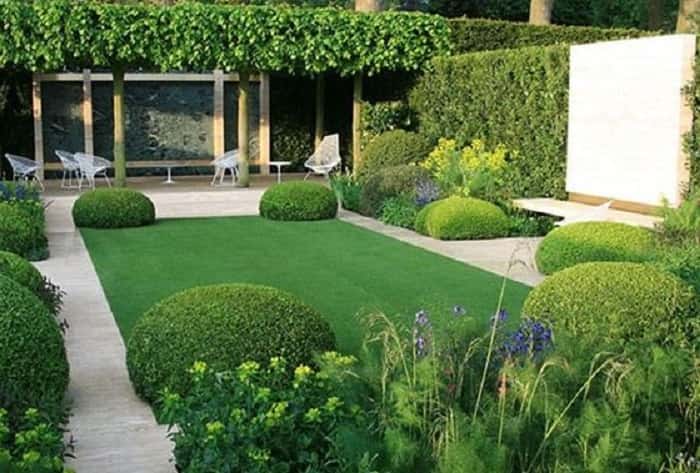 The green look throughout the garden can also make the yard feel cosy. If you are a person who loves nature, this design is the right choice for you. Not only the artificial grass, this yard is also equipped with a vertical garden on the wall. You can see vines growing above the canopy of the lounge area.
4. The small garden with a warm seating area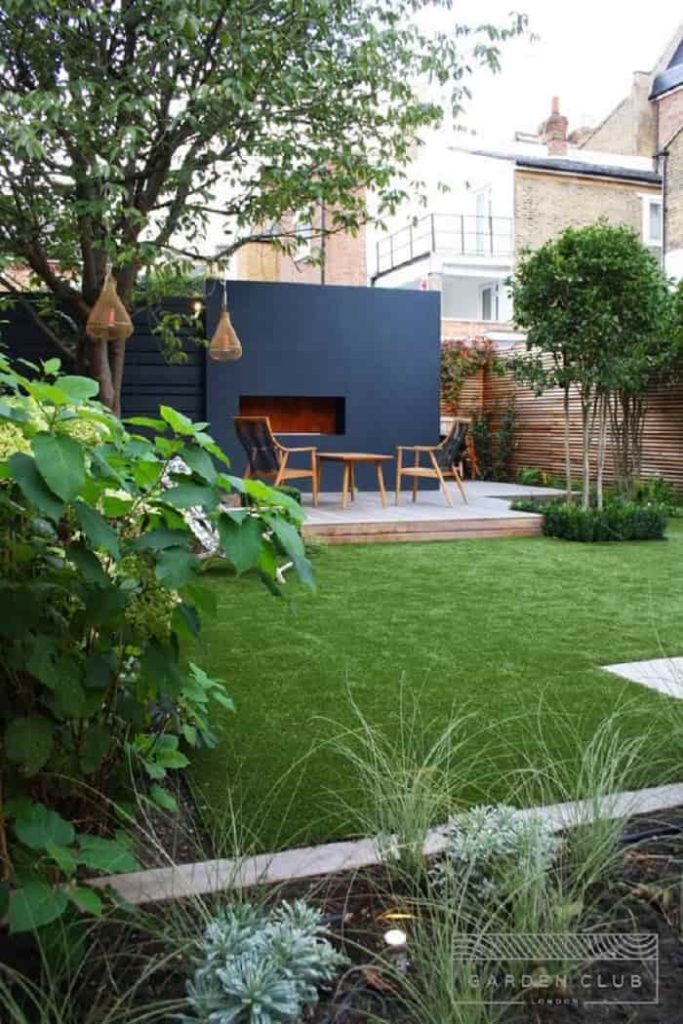 Creating a calm and cosy place in the backyard can be easy. Growing various plants can make the backyard feel breezy and cool. Build a fireplace in the backyard to keep this area warm every season. As you can see, the modern fireplace took place near the seating area. You also need to put lighting in the backyard and provide a calm feel at night. The hanging lamp would be a perfect choice.
Front Yard Artificial Grass Ideas
There are many design ideas available for front yard artificial grass. Here I've shared some of them that you can try in your front yard.
5. Artificial grass idea for grand front yard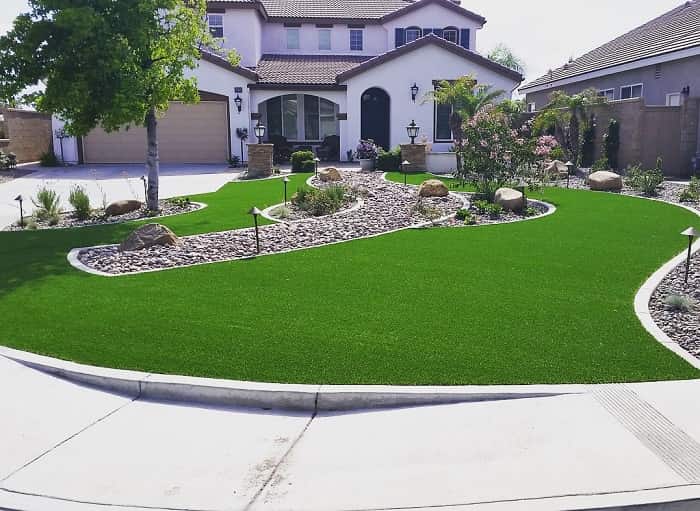 This landscaping idea will match your grand front yard. This landscape gives a clean and luxurious look. Covered by artificial grass on the surface, this landscape uses stones for various looks. To make the front yard feels welcoming, use the curved shapes for the outline.
6. Bright landscaping idea with an outdoor pool, white and green tones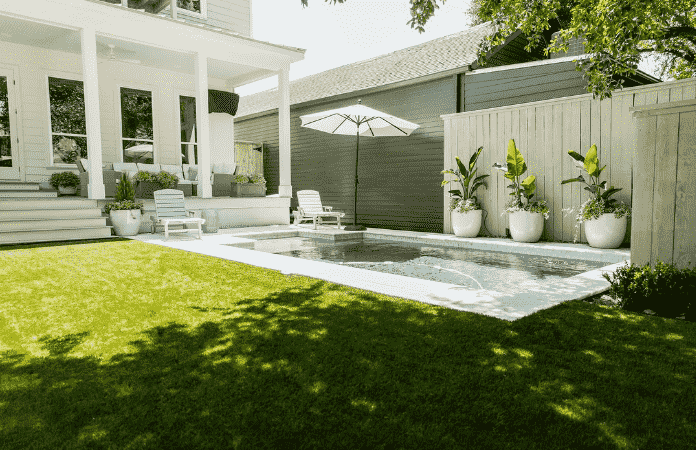 If you are designing a home landscape with a swimming pool, this simple design could be an option. The combination of white and natural artificial grass green colours makes the area easily visible. Moreover, the space looks clean and bright with the reflection of the water pool and the white background.
7. Mini hills in the front yard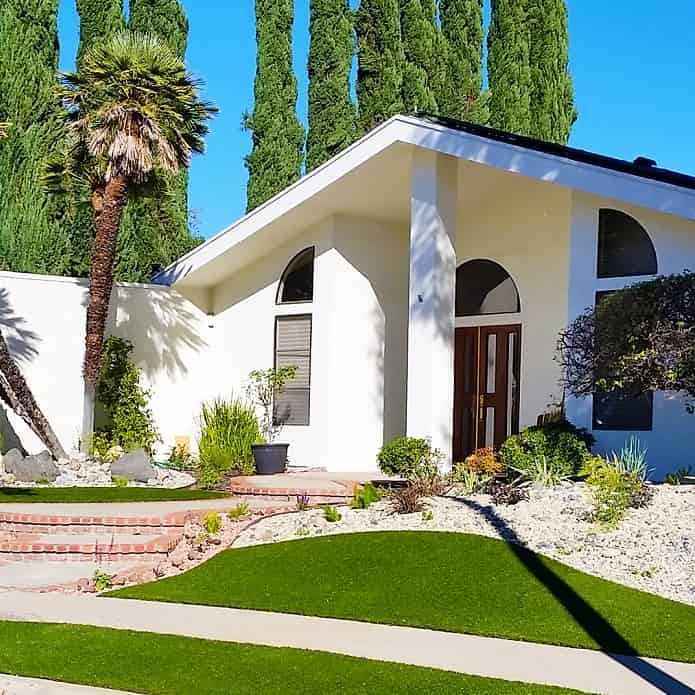 If you only have a small space in the front yard, you can design it like this one. Place the artificial grass in a circling shape and try to combine it with graves and stone. It will look beautiful if you design the front area of the house with entrance staircases. Choose a natural material for staircases like brick, wall stone, or wood. This idea will make your front yard looks welcoming and fresh.
8. Artificial grass in the front garden with various flowers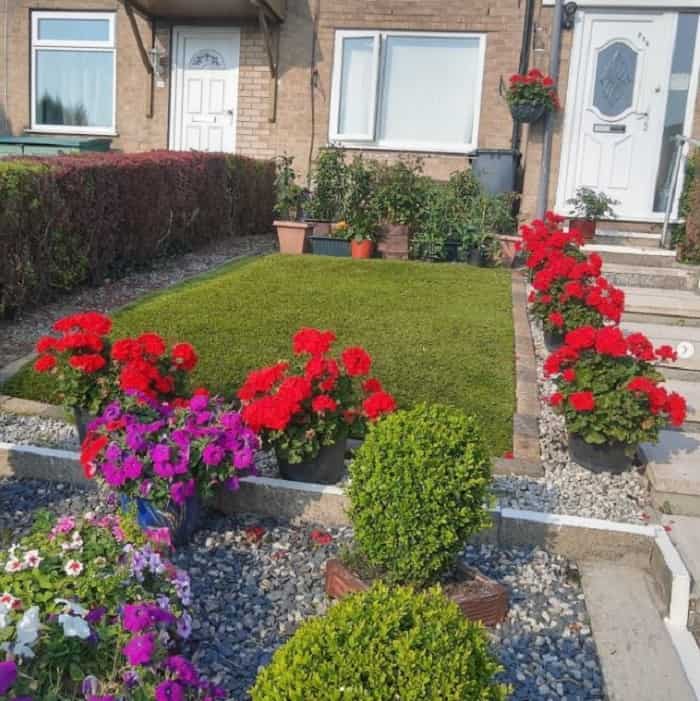 In residential areas, houses design are very similar. However, if you design the front garden with an attractive garden, it can make a difference. As in this design, artificial grass and flowers complete the front garden. Other organic elements also complement this design idea.
9. Curve outline with gravels perimeter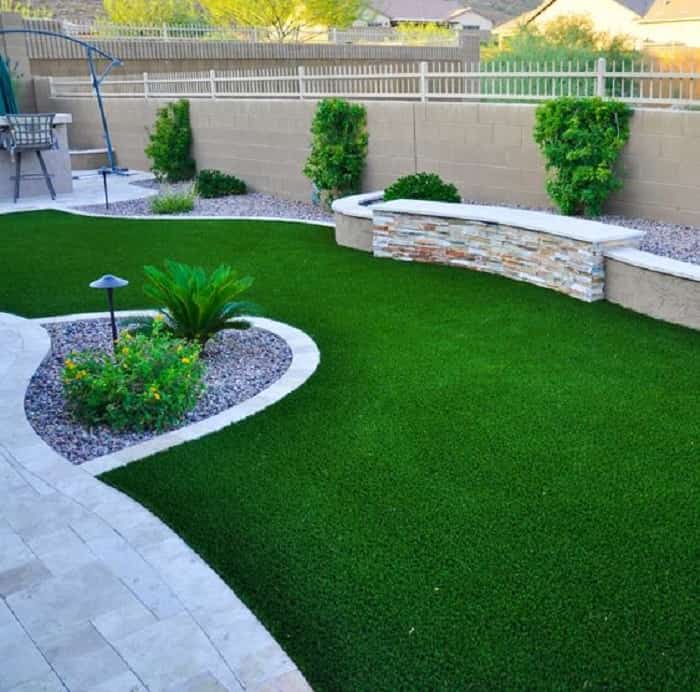 The outlined perimeter of the yard makes a different impression depending on its shape. Curved lines in this garden give a soft, flexible, and dynamic image. It can show the owner's personality in the design. It is also complete with some natural elements to enhance the garden. You can fill the perimeter with gravel. Apart from preventing soil and plants from drying out quickly, gravels can also help prevent weeds.
Artificial Grass Backyard Ideas
If you are looking for some of the best artificial Grass Backyard Ideas, check out the following designs.
10. Artificial grass and Paving in the backyard seating area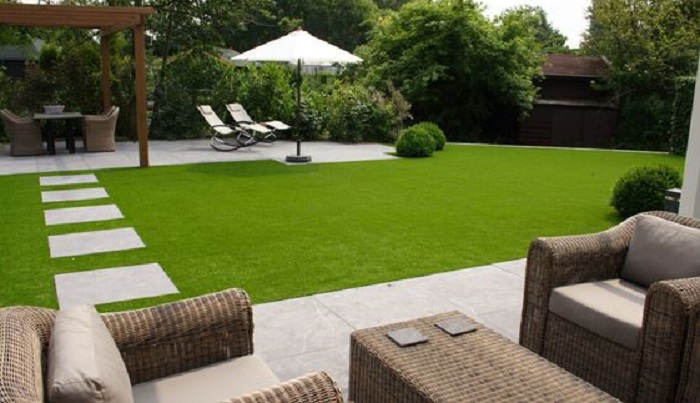 Artificial grass with pavers is considered one of the nicest design ideas for any backyard garden. Having a seating place in the backyard maybe look so ordinary. But if you want to impress your guests, design it like in the picture. Artificial grass will enhance this area to look bright and calm. Place comfortable seating like a sofa or casual seating like a sun lounger. Design a path walk pavers so you do not need to walk on the artificial grass to other areas in the backyard.
11. The levelling residential landscape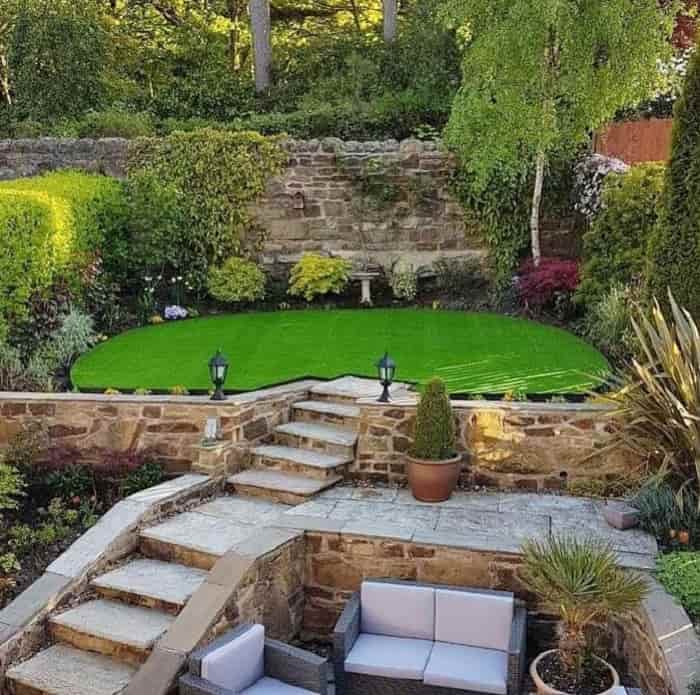 This artificial garden idea is quite interesting. Both the front and back yards can use this design. It can create a stunning appearance. The stage area with steps looks unique with artificial grass. Natural stone walls and beautiful plants place on each level. Add a sofa and table to enjoy this area.
12. Grand backyard for party people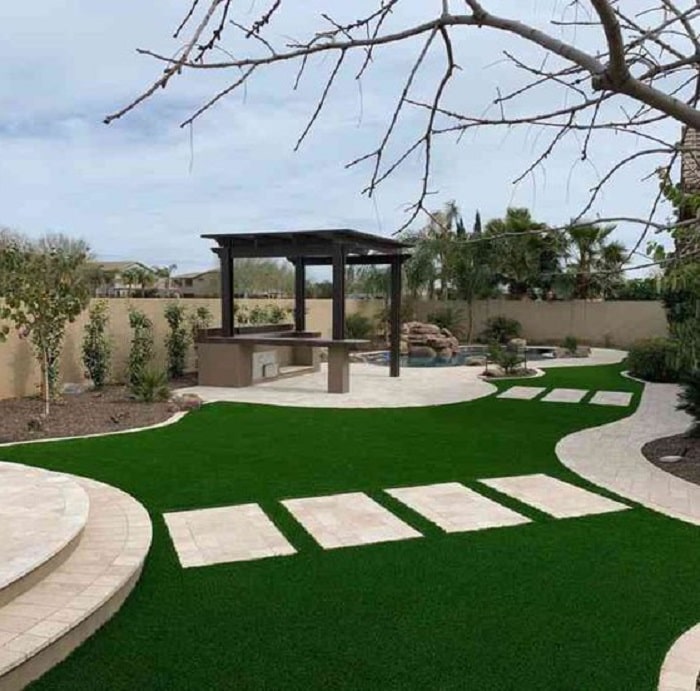 Are you party people? Then you can try to recreate this one for your large or grand backyard. Build a pool with unique stone stacks on the side of the yard and a barbecue area with a canopy. It will please your guests while partying. Not only that, but you also can build a mini stage so you can invite performers to your party. Build the backyard with a flow from one place to another one. Now you can start to take the party to the next level.
13. Pool with artificial grass and wooden deck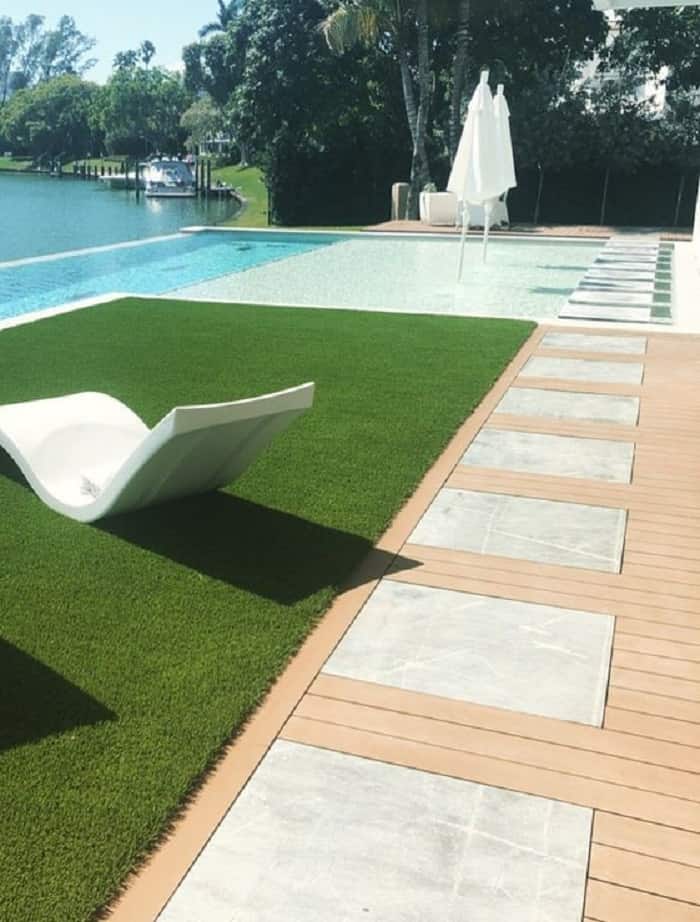 Make your swimming pool to become the most appealing in the residential area. Try to create a clean look with minimalist furniture inside. Put artificial grass on the side of the pool and place sunbath seating above it. Choose a bright brown wooden deck on the way to the side of the pool. You can choose a granite stone path walk so it will not be slippery to step on there.
14. Spacious front or back yard with stone walk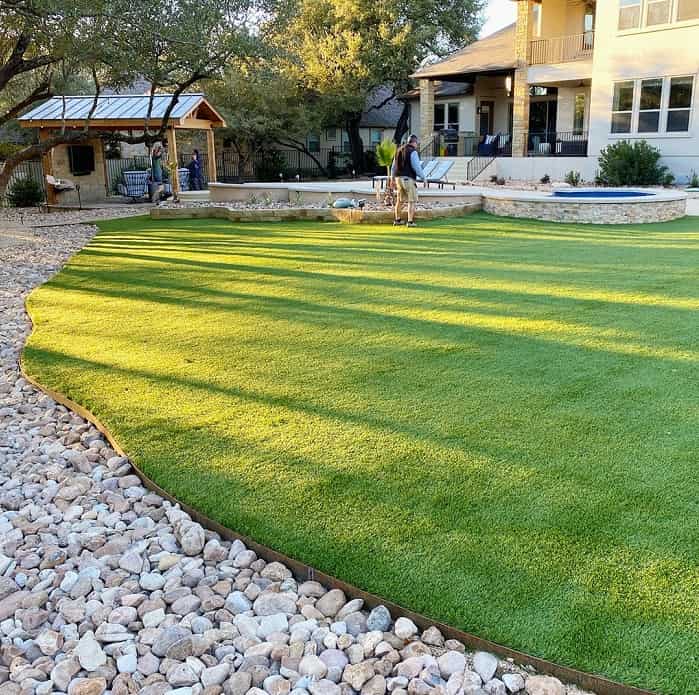 Having a spacious yard would be easy to design. If you want a simple design, you can put artificial grass in the front or back yard and complete it with a rock path walk. Your family can do various activities in this yard, including playing sports, holding a party, or even playing with pets. It will be easy to maintain this spacious yard because it uses artificial grass.
15. Wooden theme garden on the backyard patio
Design your patio in the backyard with a wooden theme like this one. It gives a warm ambience to the house. With artificial grass to bring nature inside, there are also wooden boxes to put plants inside. You also can see mini wood benches that place in some spots. The artificial grass looks so eye-catching in this wooden theme garden.
16. Artificial grass surrounded by plants beds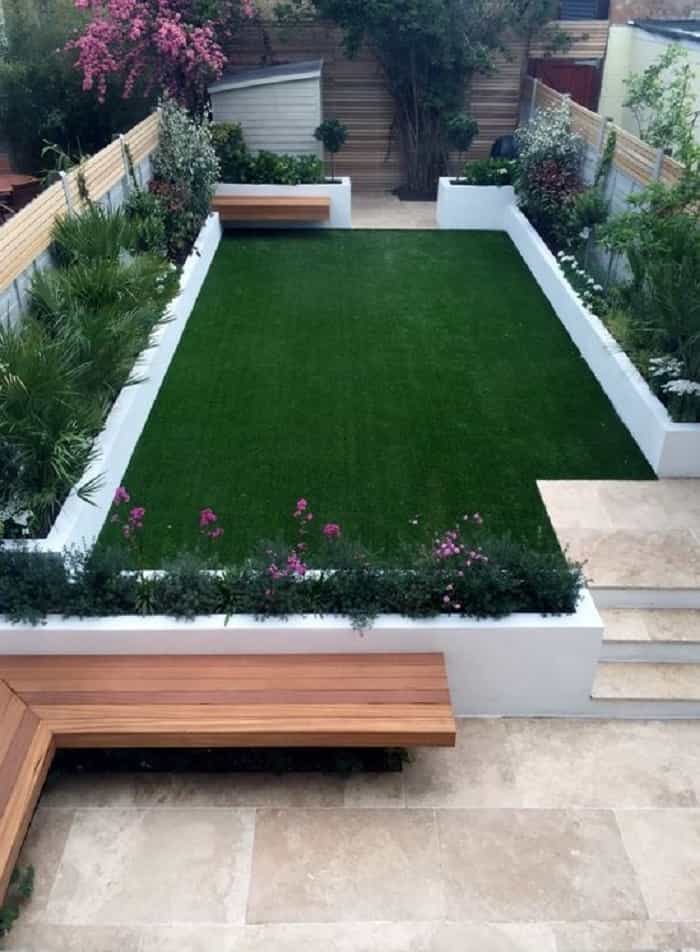 A closed backyard can be well-designed with artificial grass. If you want to create a multifunctional area, try to put artificial grass there. Make different levelling for the yard to make it look attractive. To separate the grass from the wall, you can design a plant bed around it. Apart from being a separator from the wall, the plant bed also makes the plants not easily trampled because they are at a different height from the lawn.
17. Large backyard with open space dining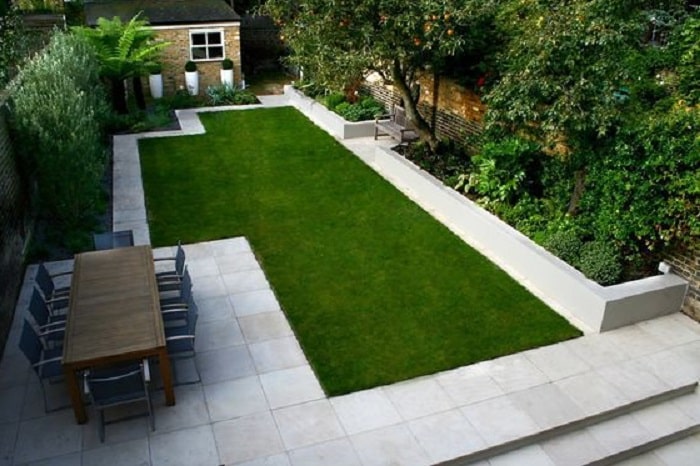 Having lunch with your family on the weekends can be a great idea to strengthen family bonds. Try to get a different ambience for your lunch by having it outside in your backyard. You can also set up a picnic-themed lunchtime there. The calm and fresh atmosphere will make this place memorable.
18. Artificial grass backyard for sport lover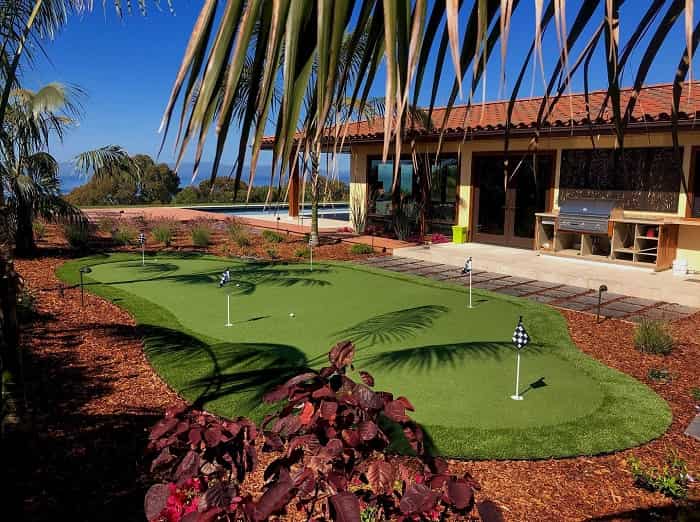 This one would be a favourite for those of you who love sports. Turn your backyard into an area for sports. Design a mini golf course or any other sport that suits your interests. You can invite family or friends to do activities together here.
19. Artificial grass colour combine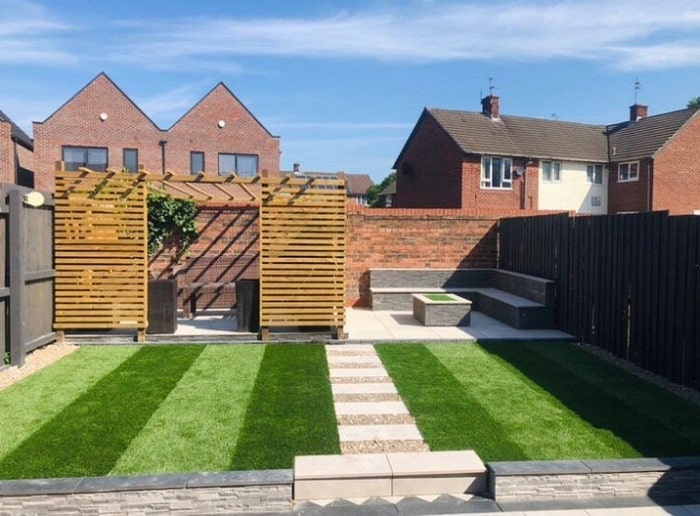 A simple design idea is more popular these days. Like this design, you can fill the garden with different artificial grass colours. The use of gradation colours gives a simple and attractive impression. Decorate the garden area with natural materials such as wooden partitions or stone chairs. You also can make the garden into your children's play area with colourful artificial grass.
20. Paved-artificial grass landscape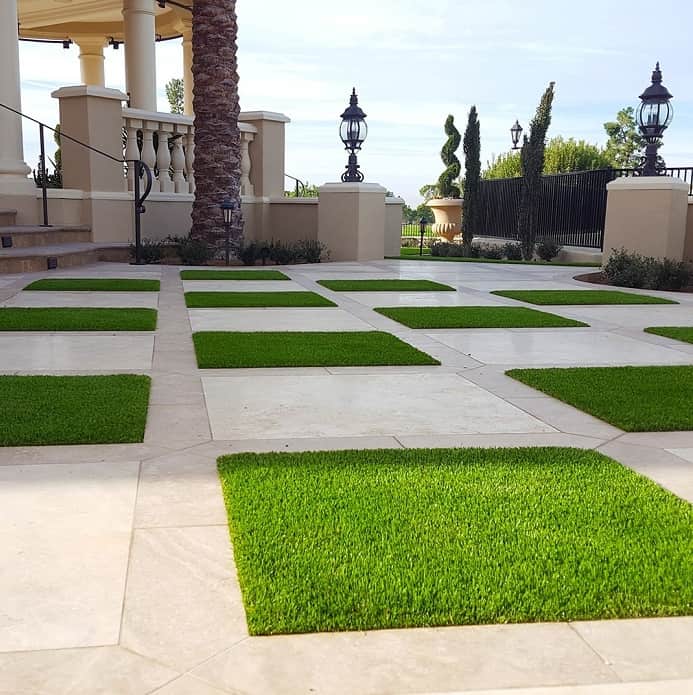 Turf pavers can create a luxury pattern design for your landscape. Chessboard models on paving floors with artificial grass will create an elegant look in the landscape. Artificial grass blocks use on the surface according to the size of the existing paving squares.
21. Modern garden with a zen touch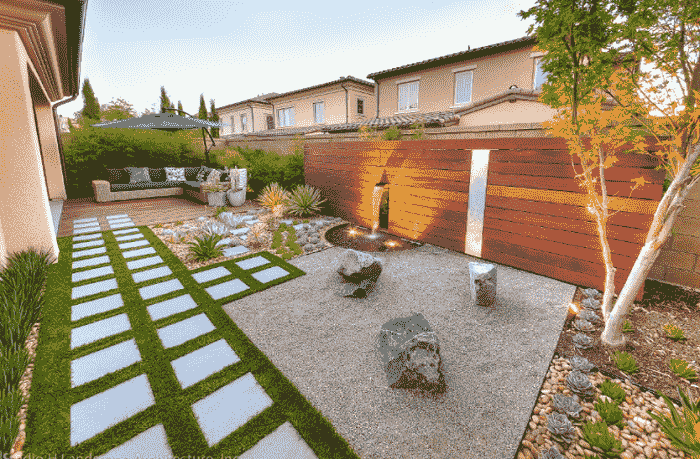 Zen is a unique idea that comes from Japan. The idea is to put various elements like water, sand, and plants into a zen-signature pattern in the garden. The three main principles in this style are naturalness, simplicity, and meticulousness. In the picture, you can see the modern design has a calming vibe using the zen touch. Mini waterfall brings a calming effect. Wooden walls let the warm ambience fulfil this area. Granite walk paths above the artificial grass set a modern look.
Article grass design ideas that can use both for front and back yards
22. Pet-friendly artificial grass Idea to Beautify Your Landscape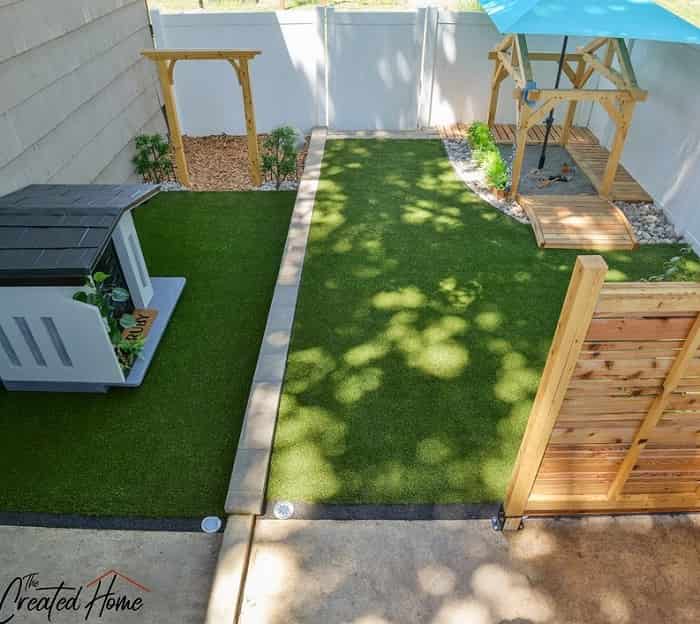 23. The small garden on the side of the house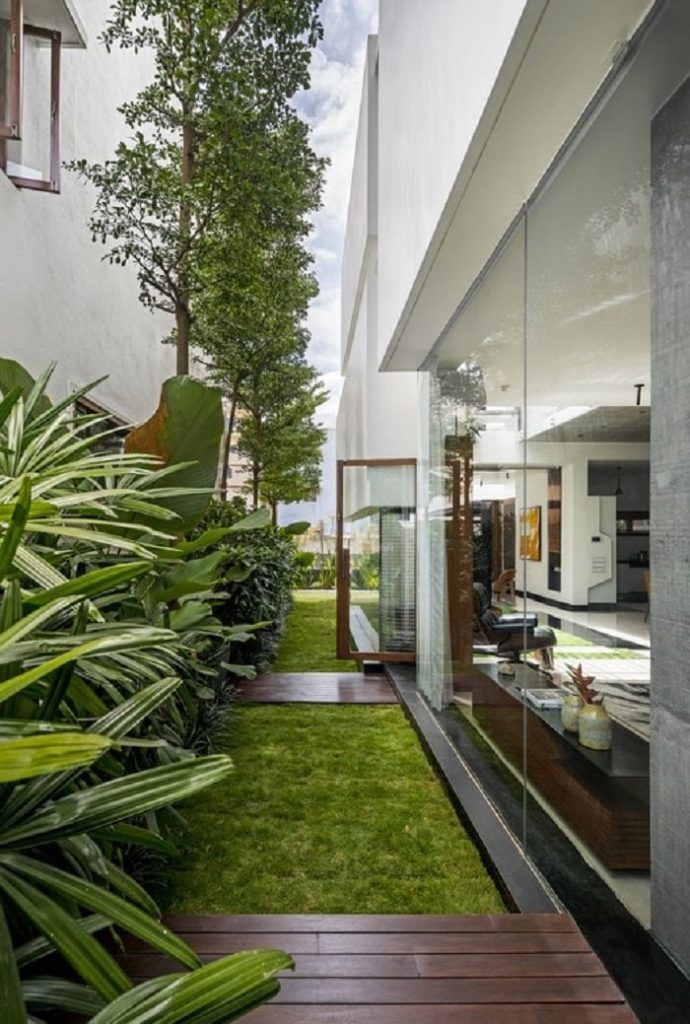 24. Small garden with exposed bricks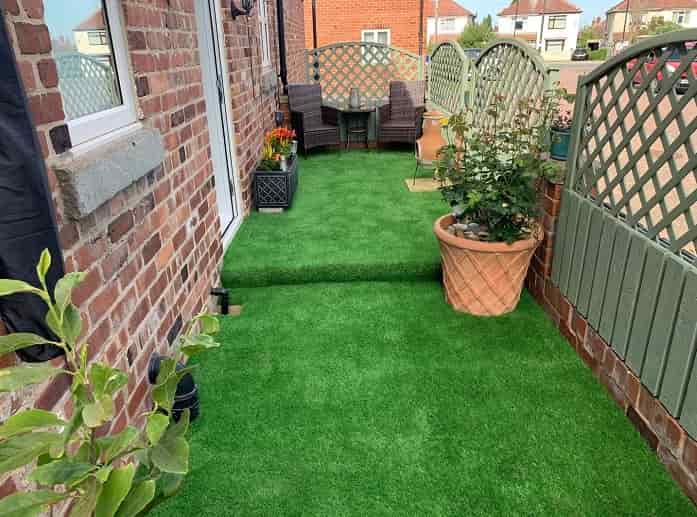 Despite having a small garden area, you can also design it attractively. Some residential in the UK have identical houses with neighbours. With a small front yard, no need to worry anymore. Try this artificial garden idea using artificial grass to enhance the green area in the front yard. Use fences that do not cover the garden too much. It makes people from the outside can see through it. Exposed bricks will create a warm and natural look for the garden.
Conclusion
Designing a residential landscape using artificial grass will enhance the house's value. It saves lots of time and is an easy way to maintain a beautiful garden. From minimalism to a complex one can be achieved with some inspiration. Remember to measure your yard to choose the best theme or design for your artificial garden. You can put what you need into the design based on your favourite activities. Try to build a sports area in the landscape if you love sports. Or, you can have a spacious artificial grass lawn to do multifunction activities like barbecuing, throwing parties, or playing with your pets.