Are you ready for a refreshing, authentic touch to your home décor? Natural brick as a building material is so versatile that it can be applied in various ways around the house. For centuries, interior designers have used this gem which has now evolved into exciting modern looks. Not only does it come in various earth tones, but it also offers a unique texture, can be arranged in countless patterns, and most importantly, is cost-effective. What's more, brick is so versatile that it can be applied in any part of your house, be it a lounge, kitchen, bedroom, or bathroom. Are you looking to add your individual taste and style? Here are the 51 interior brick wall ideas that you will definitely love!
The Best Interior Brick Wall Design Ideas
1. Splash of brick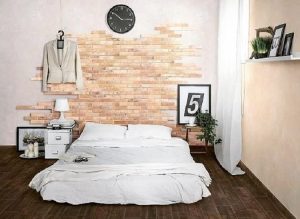 Bring out your artsy side by just adding a splash of brick onto your otherwise plain wall. With this, the possibilities are countless! Whether stacked together with rugged edges or split up with spaces in between, you can escape the common monotony of a full interior brick wall. Suppose you already had a specific color scheme in your bedroom; you can still stain or paint over the brick to match the rest of your décor.
2. Living room decoration with brick walls and timber combo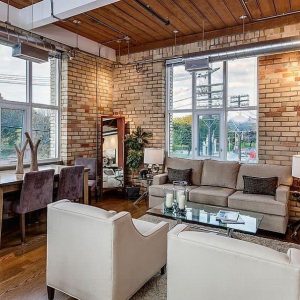 Naturally occurring materials complement each other perfectly. The wood and brick combo is no exception. A brick interior wall complemented by a wooden ceiling forms a warm, cozy space with authentic earth tones that bring comfort to the eye. Even with other materials such as glass, stone, and leather in the room, the balance is maintained with natural materials.
3. Curved brick wall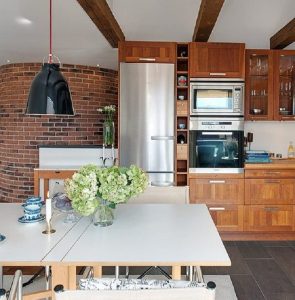 An interior brick wall can be engineered to form a curve of any diameter you desire for your space. This is an impressive way of using brick in forms that other wall finishes cannot provide. Curves have been known to open up spaces and add dynamism to what would have otherwise been a boxed-up room. What's more, a curved brick wall also adds texture and color to the space.
4. Bookshelf backdrop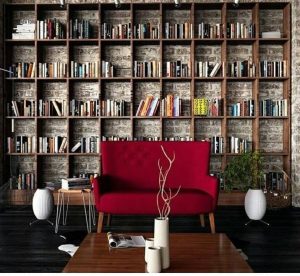 In case you are looking to spice up your bookshelf, consider a brick wall as a backdrop. Its patterns already go well alongside the many vertical lines and colors that stacked books present. Also, if your bookshelf is wooden, the earth tones that both brick and wood present will form a great combination for your room aesthetic.
5. Brick fireplace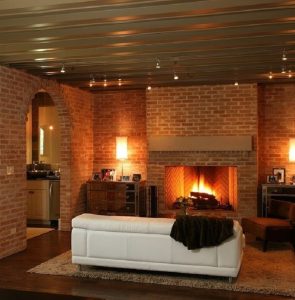 Brick has great thermal properties, hence why it has been used in fireplaces since time immemorial. It reflects light well and is able to withstand high temperatures. When treated well, it can last through your warm fireplace nights and still be brushed for that fresh clean look. Even when used in faux fireplaces, it can create a real illusion of fire by reflecting light off of its red hue.02.
6. Accent wall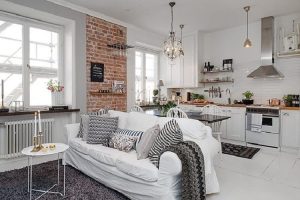 Suppose you have a whole other theme in your house and would only want to highlight one part of your wall; consider a brick wall finish as an accent wall. You have the freedom to stain it and even paint over it, in case you want it in various other colors. This single splash of color can transform an entire room.
7. Headboard brick wall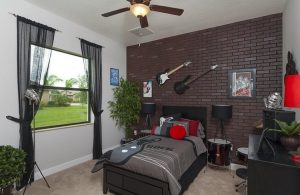 Just in case you have no idea what to do with your bedroom headboard wall, consider a toned-down brick wall interior design finish. The advantage is that you get a combination of color, texture, and pattern simultaneously. Furthermore, you can easily drill a brick wall to add extra hooks for all the stuff you'd like to hang on the wall. If a brick wall is too much of a stretch, brick wallpaper will do too!
8. Patterned Monochrome Wall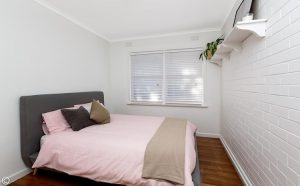 Would you consider a brick wall for your monochrome bedroom space? You can still enjoy the benefits of textures and patterns from brick without being stuck with the natural earth tone of exposed brick. You can easily paint over the brick but still have that unique wall in your bedroom. When painted over, the outcome is a calm space that is still unique to your personal taste.
9. Accent chimney wall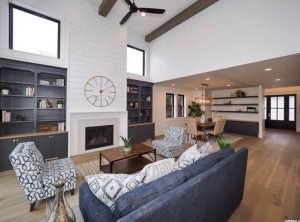 Instead of the perceived chaos that a red brick wall may bring to your living room, consider painting it white. This will allow you to retain the texture and patterns that brick offers while keeping to your monochrome interior wall design ideas. In case changing your wall finish may be too much of a stretch, consider using wallpaper. Just be careful not to place it too near to the fireplace opening.
10. Double-volume wall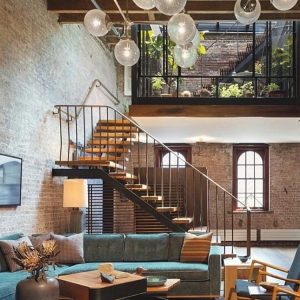 For the double-volume wall in your house, brick can be an interesting selection of material.  Such a kind of wall may run the risk of appearing blank and lackluster, but with brick, it can transform into a myriad of colors, patterns, and textures. You will not need to add any other form of wall decoration to it since it will be a work of art in itself.
11. Matching brick wall and light hardwood floorboards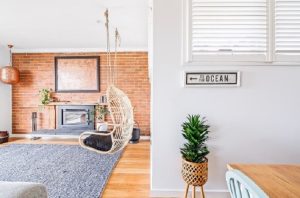 Ever considered what kind of brick would match your light hardwood floors? Consider one with a peach or orange hue. This is the color versatility of brick –it comes in a variety of hues. These allow you to maintain your desired color scheme while still delivering the textures and patterns you hoped for in your accent interior brick wall design.
12. Small accented wall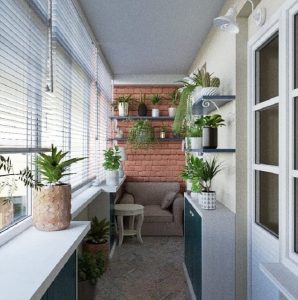 When trying to create an accent wall for a limited space, there are some options one can explore. An example is an interior brick wall with a few green planters. This brings a calming outdoor feel indoors. It has earth tones that bring authenticity to what may be a limited, squeezed space.
13. Rustic, sophisticated wall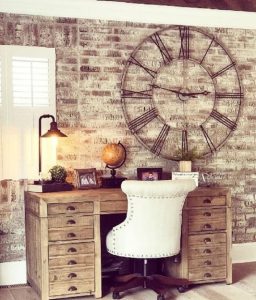 Exposed brick walls offer a rustic feel that creates an intriguing yet sophisticated setting. It depicts a personal sense of taste and style, one that is unique. This rustic feel can be extended to the choice of furniture around it, including whatever choice of wall decorations one decides to put up.
14. Monochrome grey brick wall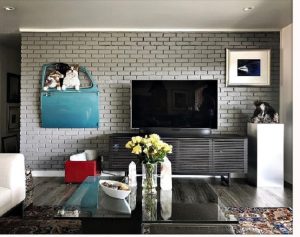 Suppose you have a brick wall but want to change it to a different interior design theme; you can still paint over it. The possibilities are endless, including a grey monochrome that is becoming quite common nowadays. You will still be able to experience and enjoy the patterns of your brick wall but behind a whole new theme.
15. Brick wall and ambient lighting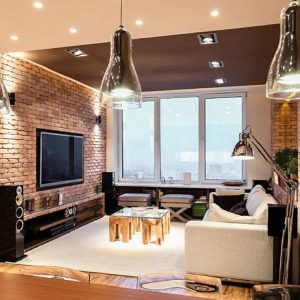 When it comes to playing with light, brick is an excellent interior wall design idea. More and more homeowners now install different light fixtures, especially in their lounges. Soft light bounces well off textured brick walls, which makes them focal points for wall lamps. The red-brown hue also works well by reflecting ambient lighting. This design is one of the interior brick wall lighting ideas. That you can try out at your sweet home.
16. Faded-out backdrop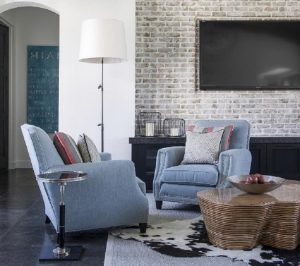 A faded-out brick wall is a great option for a living room lounge area. One may not opt for the red brick finish when dealing with blue and grey tones. Instead, a faded-out vision may blend more easily with the non-saturated furniture and fittings. In fact, the toned-down wall forms a perfect backdrop that is still stylish.
17. Accented passageway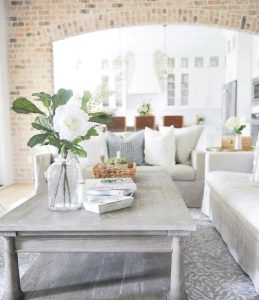 An accented passageway is one of the brilliant brick wall interior design ideas. This utilizes the structural versatility of brick that allows it to form a perfect archway as well as its texture, color, and patterns. The color combinations are endless, meaning you can go as bold as you can when it comes to the redness of the brick to accentuate the transition further.
18. Brick wall and timber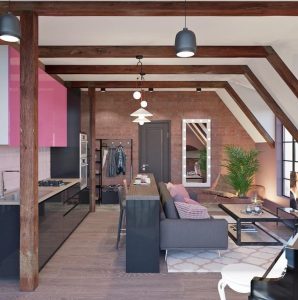 Brick and timber are two natural materials that go so well with each other as interior design ideas. They share the same earth tones and can come in different shades that can easily be placed together in the same space.  In this case, the timber wall is shaped to mimic the timber beams on the ceiling, which in turn, connect to timber columns. Fantastic piece of art.
19. Accented brick wall with fireplace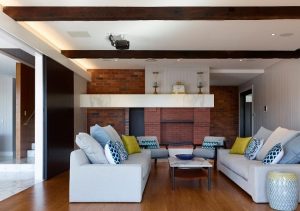 That one wall that has exposed timber always seems to be the focal point in most homes. The location of the fireplace further accentuates it. This red hue adds to the warmth and ambience of any space, especially when highlighted by various lighting fixtures. It is a splendid colorful appeal, especially if your furniture colors are toned down.
20. Bits of brick everywhere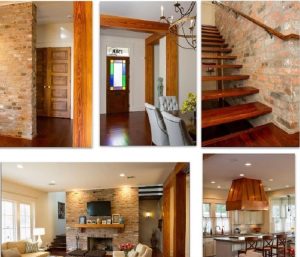 A brick wall can be used in several places in your house as an interior design idea. It creates harmony when you have bits and pieces of your house highlighted with the same brick texture. It can be the accent wall in your lounge, stairwell wall, passageway wall, and even kitchen backdrop.
21. Backdrop to vintage art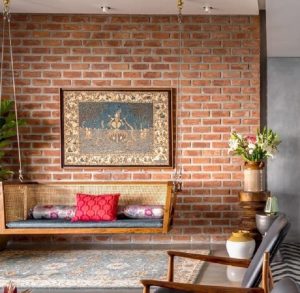 Aged brick can form a perfect backdrop to vintage art. Its raw beauty gives the illusion of ancient times, which can create a scene from the past which resonates with ancient art. This goes along with the furniture selection of that particular space. This look can be achieved with raw brick as an interior wall design idea.
22. Mysterious brick wall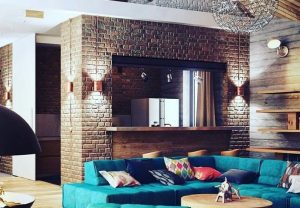 Looking for that dark mysterious look in your living room? Brick can be a great dim wall for your space. It can still be lit up by wall lamps which reflect well off the texture of the brick. To compliment this, the teal furniture selection adds to the lounge's mystery, giving it a specific and unique acquired taste.
23. External wall as a focal point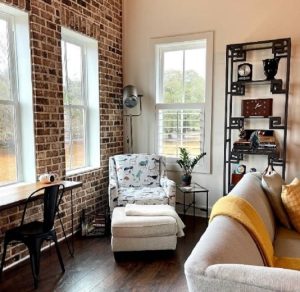 An accent wall does not just have to be the one where you hang your television or the one where the fireplace is at. Brick can transform any wall into an accent wall. As an interior design idea, brick is so versatile that any wall with exposed brick immediately becomes a focal point.
24. Patterned background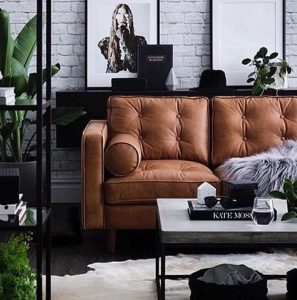 In most cases where brick is used, it automatically stands out as an accent wall or focal point. However, you can paint over it and turn it into a textured, patterned background instead! The patterns still add style to the wall, but they don't steal the attention from the furniture you are trying to highlight.
25. Backdrop to Art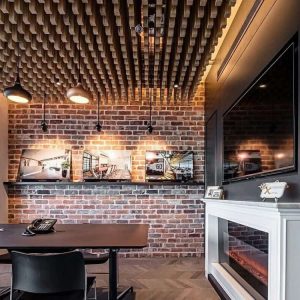 Brick can be a delightful backdrop to pieces of art, especially with the way light bounces off it. This magic can be created with art that either compliment the interior brick wall's texture or sharply contrast it. As a backdrop, brick works absorb light and even reflect it back when polished. That way, if you shine a spotlight on a brick backdrop, you are likely to unlock a myriad of light play.
26. Arch Hallway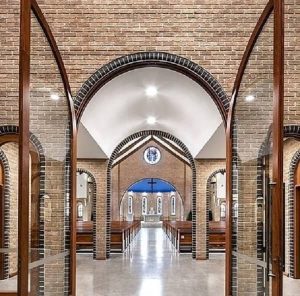 The outstanding fire resistance properties of brick have made it preferable for use in fireplaces. Not only does it have great thermal properties, but it can also add to the decorations around your fireplace. You can experiment with color and style while still enjoying the benefits of brick as a fire-resistant material. One advantage is that you can always wire-brush it off even if it gets some soot.
28. Extra exciting patterns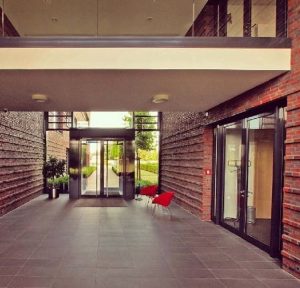 In case a flash brick wall may be a bit monotonous, feel free to add a bit of pattern. By adding a horizontal line of brick that is juxtaposed from the wall, you can create an illusion of a longer passageway with a more intriguing wall as opposed to a plain, flash brick wall. What's more, the juxtaposition can be vertical to give the illusion of a higher ceiling!
29. Kitchen Counter Backdrop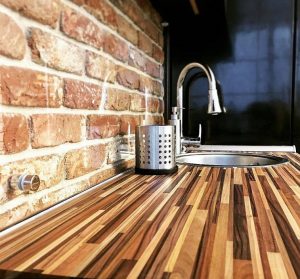 Brick, when polished, can form a good water-resistant backdrop in your kitchen. It compliments both stone and tiled countertops and can even be contrasted by the fittings in your kitchen. If you are too jittery about cleaning through brick crevices in your kitchen, perhaps consider a brick wallpaper that you can easily wipe off.
30. Whitewashed Brick Wall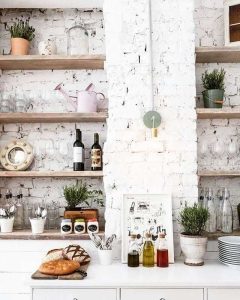 Brick comes in different shades of earth tone, which may be different from what you envisioned for your home. An idea to spice up your interior brick wall is to paint it with whitewash or whichever other subtle color that fits your imagination. This way, it will still fit your color scheme perfectly while maintaining the texture and patterns that inspired you to use brick in the first place!
31. Natural Rustic Feel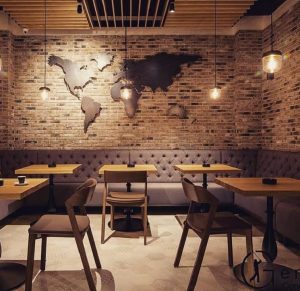 A lot of interior designers recommend brick because of its earth tones. Its rustic feel compliments other natural elements such as wood and brass metal. If you would like to add to the rustic feel of your house, to ground yourself in earth tones, perhaps, a brick wall is a great way to start. Darker shades of brick are able to make this rustic ambiance even better.
32. Bedroom Backdrop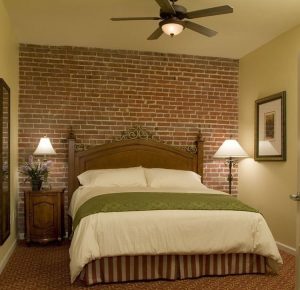 To tone down the brightness of your bedroom, an interior brick wall might just be the solution. The relaxing and comforting earthy hue perfectly fits the kind of ambience for a good night's rest. Just as it is, the motif from the joints between the brick pieces is artistic enough. You won't need to add anything else to the wall, giving it a minimalist approach that is still rich and vibrant.
33. Wall and floor patterns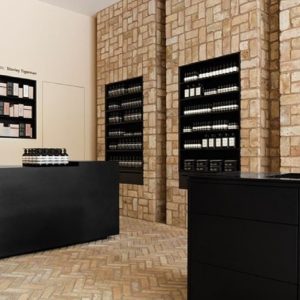 The beauty of brick as an interior brick wall is that it can spill to become a floor finish and even a wall finish. The texture, color, and pattern on the floor can vary to give contrast to the already existing brick wall. If you prefer uniformity, then you can still use the same brick on the floor, wall and ceiling. It ties the whole room together in harmony.
34. Floor, wall, and ceiling bliss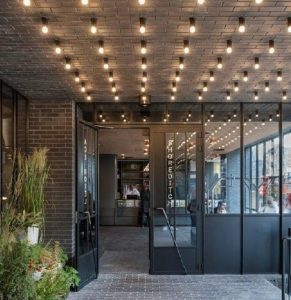 Some spaces incorporate interior brick wall design ideas with brick floors and ceilings as well! The monotony is broken by using various brick patterns on the floor, adding light fixtures to the ceiling, and breaking the wall with a contrasting material such as glass. Overall, the use of brick can give an effortless patterned hue that matches across your wall, floor, and ceiling.
35. Sharp contrast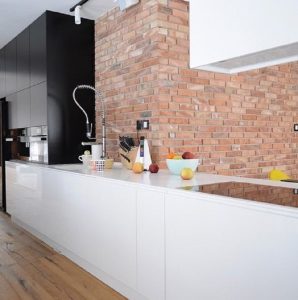 The exposed brick interior wall design adds a bold contrast to the black and white monochrome décor in the kitchen. For those with the guts to bring together completely unrelated finishes, this is an experiment worth trying. Some brick wall interior design ideas can be the mix of color and pattern that adds to the plain surfaces in your kitchen.
36. Perforated wall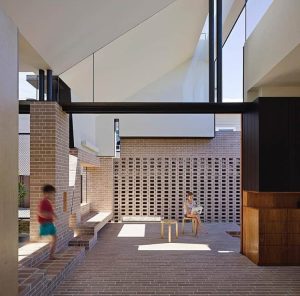 Perforated walls add to the quality of space without completely enclosing it in or breaking it off completely from adjacent spaces. Brick is an excellent interior design idea for this because of its modular properties that allow it to form perforated spaces perfectly. It can be engineered and arranged to create larger crevices for visual quality too.
37. Fun play with sunlight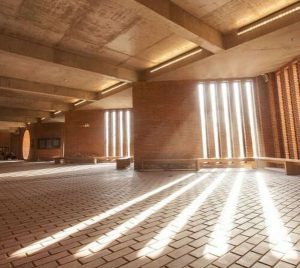 Another advantage to using a brick wall as an interior design idea is its ability to create perforated spaces within the wall. This can be explored to allow light in, creating an amazing light play with sunlight. The slits can be vertical or horizontal or even small perforations to control the amount of light coming in.
38. Play with patterns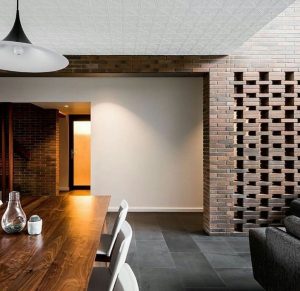 Ever thought of adding an actual 3D pattern to one of the walls in your lounge? The versatility of brick is wide enough to allow patterns with air spaces in between. This kind of interior wall design creates visual and audial continuity while still acting as the space divider you desire. What's more, the types of patterns you can create are endless.
39. Red aura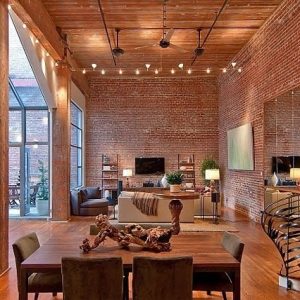 The raw beauty of brick is its red aura. Some bricks come in other shades closer to brown or grey, but generally people are drawn to the common red brick. For a more colorful appeal, a brick interior wall may be perfect for you. Combined with some light and wall art, you can easily lighten up your accent wall with red brick.
40. Rustic feel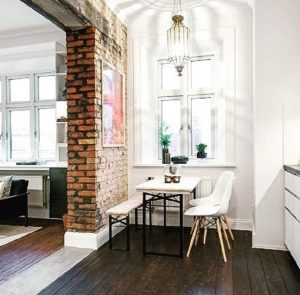 It takes courage and boldness to accept brick as it is. It comes with a variety of colors, looks even richer when aged and is non-conforming to rules of patterns and texture. It is quite stylish to expose authentic brick rather than trying to cover it up with paint. You can also take a further step to compliment your interior brick wall with exposed concrete and wood.
41. TV backdrop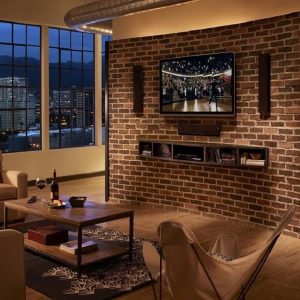 Brick's texture and earth tones make it soft on the eyes. This makes it a perfect backdrop for your television set. When watching something visually stimulating, neither the best backdrop is bright, nor does it compete for your attention. Furthermore, brick blends so well with wooden furniture, which makes it attractive for your lounge space.
42. Counter bottoms brick wall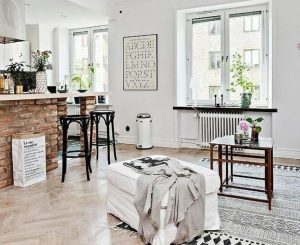 In case you already have other interior design ideas on your walls and have run out of space to add your brick, look no further! Brick can work well as cladding for your counter bottoms as well.  This is a surface that is often overlooked but, when treated well, can actually be an accent in the room.
43. Spiced-up storage cabinet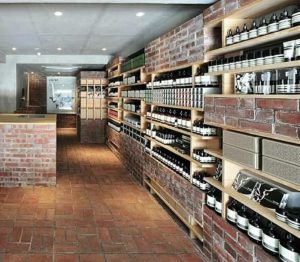 Storage cabinets hardly give you space to experiment. The fact that brick comes in small-sized modules means that it can be arranged in various ways to add life to your storage cabinets. You can also create small niches between the brick pieces to create the shelves. This is an extra idea you can add to your kitchen, especially if you already have brick on your counter walls.
44. Bathroom wall finish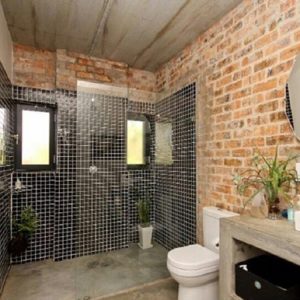 Rarely do we see the use of brick as an interior design bathroom wall finish. However, this is an undiscovered gem that can be explored. It can create a calming bathing experience when used with plants and other authentic materials, such as exposed concrete. You only need to polish it to ensure it is waterproof and won't get damp because of the wet nature of bathrooms.
45. Contrasting wall, floor and ceiling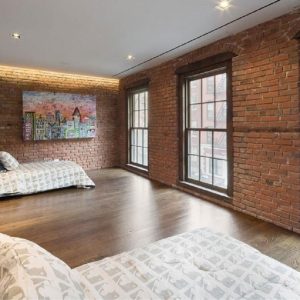 What may look like a bold move can look so subtle with brick as an interior wall design idea. You can experiment with wood as a floor finish, a brick wall, and a painted ceiling without looking too extreme. The brick wall acts as an intermediary, adding both texture and color that links the floor and the whitewashed ceiling.
46. Accenting a passageway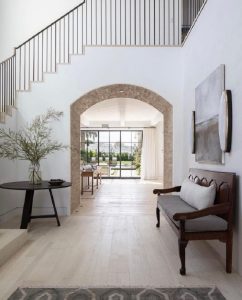 Remember the good qualities of brick as a structural element, plus its historical use as an arch? You can still achieve this unique style in your modern home. Brick as a contrasting material to painted walls, can accent a passageway and even add a flare to it through an arch. Feel free to use bricks of various colors to match your taste and preferences.
47. Minimalist brick wall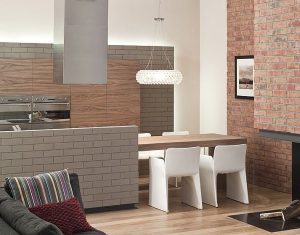 People with minimalist spaces prefer less of color and texture and would often shy away from brick as an interior wall design idea. However, toned-down brick, when polished, can be a clean wall finish that has little to no interference with the minimalist vibe that you are trying to create. You can even paint over it to tone the color down further.
48. Kitchen backdrop wall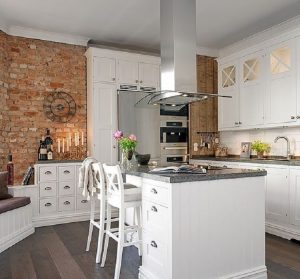 A brick wall with orange hues is great for a kitchen backdrop. This is because the orange color is associated with appetizing food, which will create good memories for your family during meal times. You can highlight this brick wall with light fixtures and create a contrast with whitewashed cabinets and kitchen counters.
49. Kitchen counter backdrop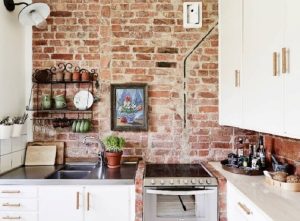 Brick is slowly becoming popular for use as a kitchen counter backdrop. It can be polished to make it waterproof for the wet areas. Its orange hues adds to the appetizing feeling of a kitchen with home-cooked meals. It can easily be grilled to add hooks for your artwork, pots and pans too.
50. Whitewashed brick wall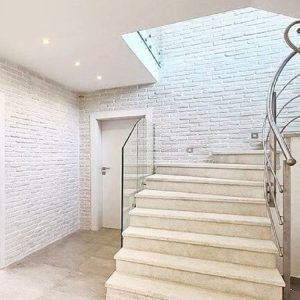 If your preferred home décor is minimalist whitewashed walls, you can still get to enjoy the textures and patterns that a brick interior wall presents. Brick can easily be painted over with the color of your choice to fit your taste and preferences. The dynamism of the brick wall will liven up any room without offsetting the color scheme. 
51. Low-lit ambient wall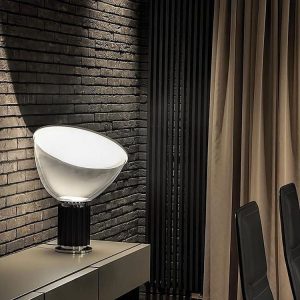 Consider a dark brick interior wall finish for that low-lit romantic ambiance in your bedroom. A single lamp can light this up to create the illusion of life or break up the monotony of the wall without it reflecting too much light back into the room. You can bring the 5-star hotel experience right to your bedroom.
If you want to reflect light slightly on the wall, then is design is one of the brick interior wall ideas that you can try out at your home.
52. Bathroom brick wall pattern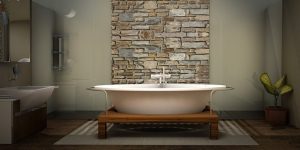 Here are a few more different brick design ideas you may like to apply to your home.
1. Curved brick ceiling and countertop brick wall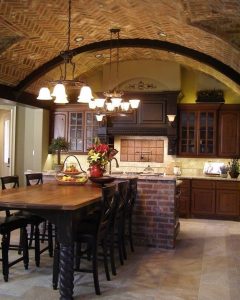 Brick is such a versatile material that you can never exhaust all it can do for your home. Imagine a curved ceiling with patterns that create that earth tone and feel. Particularly for acoustics, a curved brick ceiling is a unique interior design idea that will deliver the sound reflections your need. This presents a far much more sophisticated space than a conventional flat ceiling.
2. Grandiose bedroom ceiling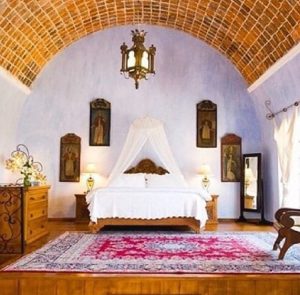 For the extravagant ones who prefer a grandiose ceiling that makes them feel like a prince or princess waking up in a medieval castle, brick can be an amazing tool. You can use brick to create a curved ceiling due to its structural capabilities. This creates a grand illusion and a fantastic acoustic experience, especially when it is a high ceiling. Furthermore, the patterns and colors on the individual bricks are a work of art.
Conclusion:
The ways in which you can explore brick as an interior wall design idea are clearly endless. Whether you already have an exposed brick wall in your house, are looking to add one, or even just considering a faux brick or wallpaper, feel free to use any of these ideas. From ancient feels to modern looks, the versatility of brick will allow you to customize your space to your taste. From your entryway to your lounge, bedroom, kitchen, and bathroom, there are several key places where you can experiment with brick. Take advantage of all the different hues, textures, and patterns available!