Are you looking for the cutest nursery shelves ideas? If yes, then I will say that you are at the right place. There are a lot of stylish nursery shelves available in different colors and sizes. Before going through the list of nursery shelf design ideas, I want to talk about a few important things.
Designing your little one's nursery is such an exciting experience, and parents look forward to it from the moment they know their baby is on the way. Choosing the colors and theme, picking out furniture, and finding the right accessories help turn a plain room into one your baby will adore. One area many parents fail to consider when designing their nursery is storage; babies come with a ton of stuff, and all the gear and clothing can become overwhelming quickly. Finding smart organizational solutions is key, and ensuring they work for you will help keep your baby's room functional.
One of the best ways to keep everything you need easily accessible is by utilizing shelving. Nursery shelves keep necessary items close at hand, so you never have to search to find what you need. Additionally, shelves for the nursery can double as decor, adding an adorable touch to every space. So, if you're ready to make your baby's room more functional without sacrificing style, check out these nursery shelving ideas and see how you can get the most out of your nursery.
White Nursery Shelves Ideas
1. White Shelving for Nursery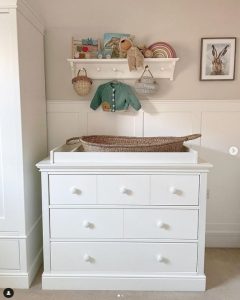 There are a lot of nursery shelves available in different colors and sizes. You can go with any color you love. I personally love the white nursery shelf, because white color shelves look to me very cute and gorgeous.
Here are a few more white nursery shelves ideas: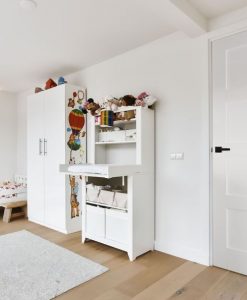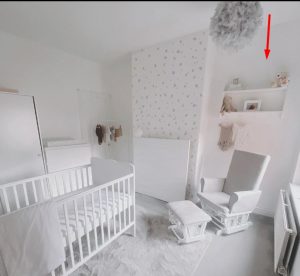 2. Simple And Sleek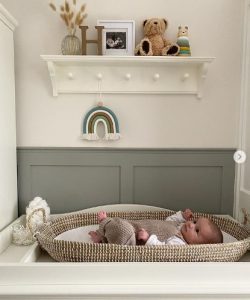 A simple and sleek shelf is the perfect addition to every nursery. Finding an option with pegs for hanging nursery shelves is an added plus, helping you get the most out of the space!
3. Creative Centerpiece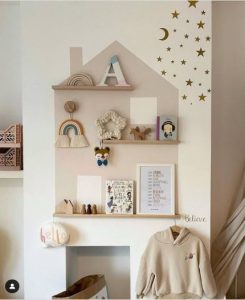 Nursery shelves don't have to be boring; consider making the shelving a centerpiece of your baby's room using a sweet mural. Integrating shelves into art pieces pairs form and function, a benefit for every nursery.
Nursery Storage Shelves Ideas
4. Compartmentalized Bliss Nursery Storage shelf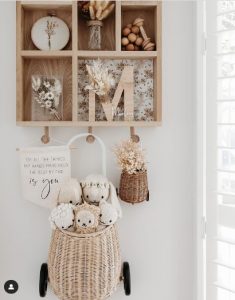 Getting the most out of your space is easy with this adorable shelf. Use the multiple compartments to store numerous items from wipes to decor and everything in between. Adding a fun background is another way to bring color and interest into your baby's room while increasing your storage area.
Here are a few more cute nursery storage shelf ideas: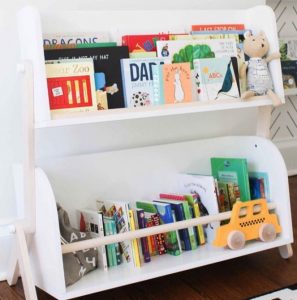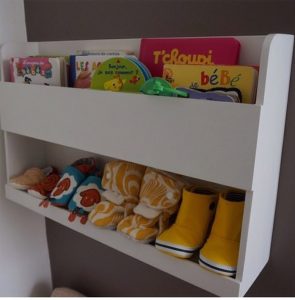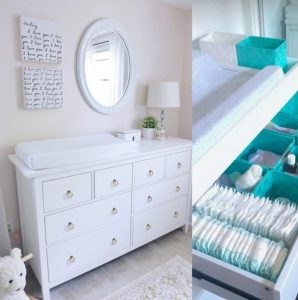 5. Circular Beauty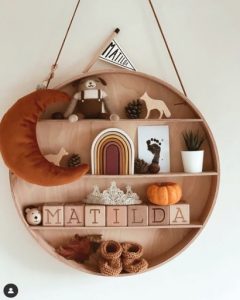 Choosing a circular shelf is an excellent way to think outside the box and add a modern twist to your little one's nursery. You can stick to natural wood tones like the shelf pictured or paint it to make it a colorful accent piece.
6. Boho Nursery Shelf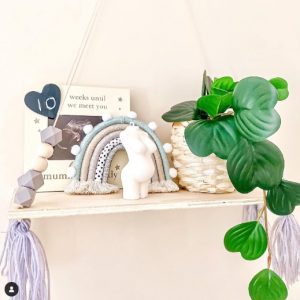 If you have wanted boho nursery shelves, then there's nothing better than adding a chic boho shelf to your nursery. Now your baby can have a stylish room full of breezy accessories to complete the space. Accents like the beads and tassels are a fun way to add color while not overwhelming the space.
7. Minimalism Nursery Shelf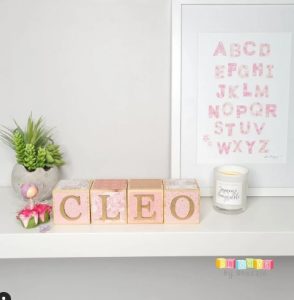 If you're searching for nursery shelves ideas that pair minimalism with style, consider one of these perfectly minimalistic shelves. The floating nursery shelves design keeps the space looking clean and uncluttered, perfect for soothing babies' minds and creating a relaxing space for them to sleep.
8. Rustic Wood Shelving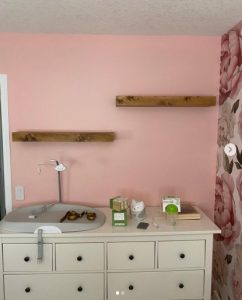 One of the best ways to warm up your baby's nursery is by adding rustic wood shelving. Depending on your color preference, you can stain your wooden shelves to match the aesthetic and bring a bit of the outdoors inside.
9. Statement Shelving for nursery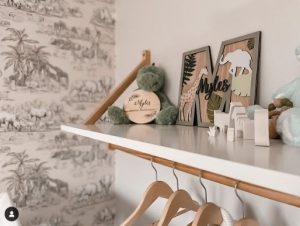 Adding a wide statement shelf to the nursery is an excellent way to increase storage space without losing square footage. Wide shelves draw the eye and allow you to highlight some of your favorite accessories or fit more of the everyday essentials your little one requires.
10. Wood And Paint Combination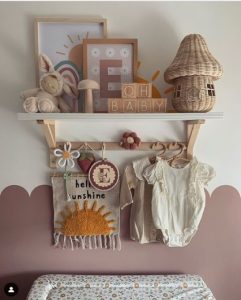 Choosing nursery shelves with a combination of paint and wood elevates the decor within the room while adding warmth. Whether you choose white and natural wood or a pop of color and a darker stain, there's no denying paint and wood are a winning combination.
11. Floating Shelves for Nursery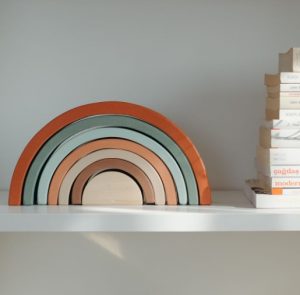 Floating shelves nursery idea options are an excellent addition to any nursery, allowing you to add multiple shelves without making the space feel cluttered. Consider using them alongside the changing table or rocking chair for easy access to everything your baby requires.
12. Pretty In Pink (Floating nursery wall shelves/Wall shelving for nursery)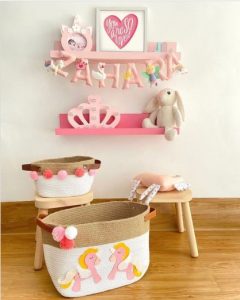 Adding a pop of color through shelving is ideal, and we love how these adorable pink nursery shelves brighten the space. You can choose any paint color you'd like to match the look and feel of your baby's room. Consider going with multiple tones of the same color for an ombre effect and to keep the space from becoming too busy.
13. Modern Function (Nursery shelves wood)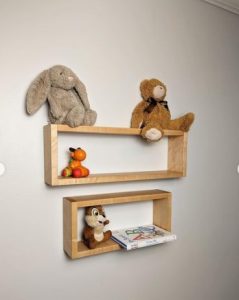 When you're searching for a modern take on a classic shelf, consider hanging these rectangular shelves. Rectangular shelving gives you the flexibility to place items above or below, increasing your usable storage area and giving you more styling nursery shelf options.
14. Simplistic Woodland Nursery Shelves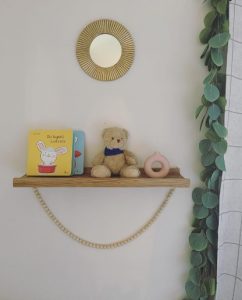 When you want a shelf that isn't bulk but effortlessly stylish, this simplistic wood shelf is for you. It's the perfect addition to any nursery as its mid-tone wood stain will match any decor. Using these fantastic woodland nursery shelves ideas, you can keep your baby's nursery sweet and uncluttered.
15. Stackable Shelving for Nursery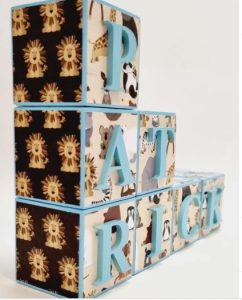 Blocks are a favorite toy among little ones, so why not bring that idea to life using stackable shelves? Make your nursery shelving unit as small or large as you'd like, creating interesting patterns and making it the highlight of the nursery. Place your favorite decor on top to create a fun and imaginative space for the baby.
16. Peg And Hook/Hanging Nursery Shelves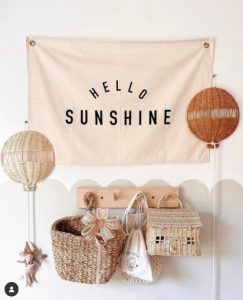 When you want to hang your favorite baby clothes and accessories, choose a peg and hook shelf for your little one's nursery. The nursery shelves with hooks offer added hanging space and let you showcase your favorite items so you can smile every time you look their way!
17. Leather And Wood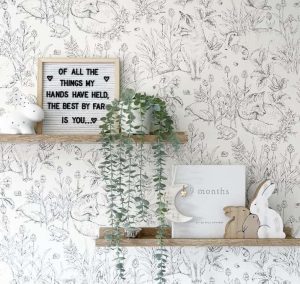 Pairing leather and wood is the perfect way to add sophistication to your baby's room through their nursery shelves. The classic look is truly timeless and sure to become one of your favorite areas in the house. For an animal-friendly option, choose vegan-friendly faux leather for a look that is just as beautiful.
18. Hanging Nursery Book Shelves/Nursery Book Shelving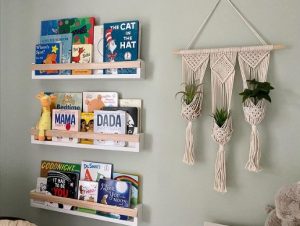 I would say that nursery book shelving is the first choice for all book lover parents. There's nothing better than reading to your little one, and these hanging bookshelves make it easier than ever. Now you can organize all your favorite books on a nursery bookshelf, so they're easily accessible and ready when you are. Plus, you don't have to worry about crowding up the room with a bulky standing bookcase, making these hanging nursery bookshelves the perfect addition to every nursery.
19. Built In Beauty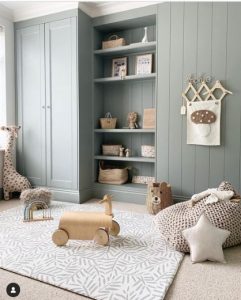 Built-in shelving is the perfect way to add storage and functionality without taking up precious floor space. Plus, built-ins make the room look put together and add a level of luxury. Consider painting the shelves the same color as the room to maintain a cohesive look or use an accent color for a fun statement.
20. Woodland Nursery Shelves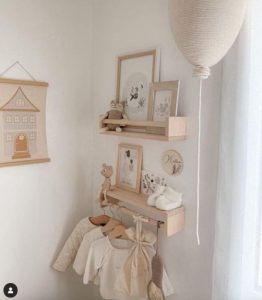 Light wood is an excellent option for nursery shelves since it's unisex and matches all decor. Light natural woodland nursery shelves wood design provides a Scandinavian feel to the nursery, which helps soothe babies and keep them from feeling overstimulated.
21. Eclectic Shapes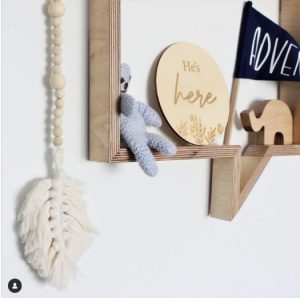 Nursery Shelves don't have to be boring, so when you're looking for eclectic nursery shelves ideas, why not use eclectic shapes? You can use your decor as a means of expression, making a unique space that is far from ordinary.
22. Basket Shelving Ideas for Small Nursery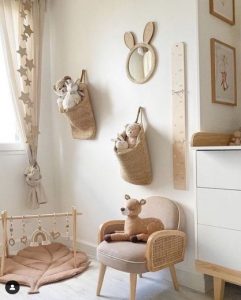 Nursery shelves ikea category come in all shapes and sizes, so why not use baskets instead of traditional shelving options? Basket shelves are versatile and mold to fit almost anything. They're the perfect place to store stuffed animals, blankets, pillows, and more!
23. Raving Rattan Nursery Shelf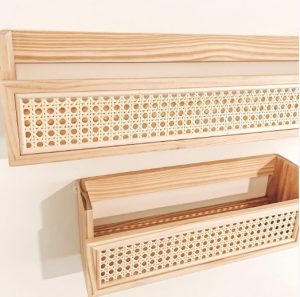 Rattan is a timeless material, so incorporating it into your nursery shelves is a no-brainer! Bring the feel of a tropical getaway into your baby's room, making it feel like a vacation every time you enter. Plus, these rattan shelves are compact to offer maximal storage with minimal space.
24. Fun Shapes (Playroom nursery storage shelves)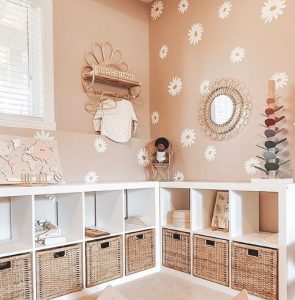 Rattan is a versatile material and is easily moldable into a fun-shaped shelf that brings a bit of whimsy into your nursery. We love how these nursery shelves with rail give standing and hanging storage, making them perfect for holding essentials. No matter what your nursery's theme, you can find a fun-shaped shelf that makes it your favorite room in the house.
25. Colorful Accents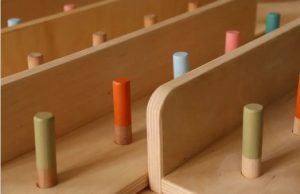 If you want to add a bit of color to the nursery without overloading the space, consider using a peg shelf and painting only the ends. This shelving option is excellent for multiples, too; simply allot one color for each baby, so you never get their clothing and gear mixed up again!
26. Pegboard Bliss Shelving Ideas For Nursery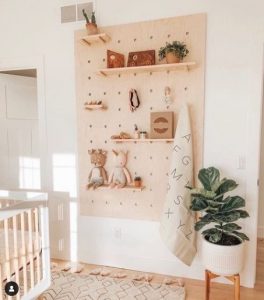 Pegboards aren't just for the garage; hang them in the nursery for a unique and stylish decor staple. Leave it a natural wood tone or paint it to make it match the room or stand out. A pegboard nursery shelving unit offers maximum flexibility, allowing you to easily move the shelves around to create the new perfect storage solution.
27. Animal Themed Shelf for Nursery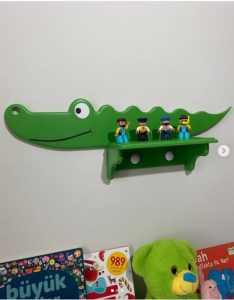 Who said shelving has to be boring? Add whimsy and fun to your baby's nursery with these animal shelves for nursery. Your baby will love looking at their colorful new friend, no matter which animals you want to use. These are sure to be your favorite shelving option for years to come.
28. Disney Themed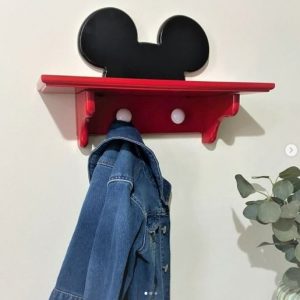 Why not bring the magic with Disney when using shelves for nursery decor? This mouse-eared shelf is perfect for any nursery and will have your baby smiling from ear to (mouse) ear.
29. Nursery Shelves with Hanging Rail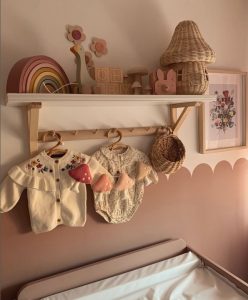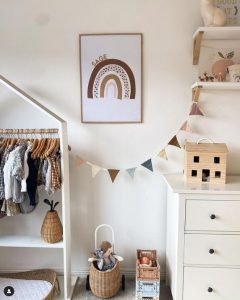 30. Plant Nursery Shelves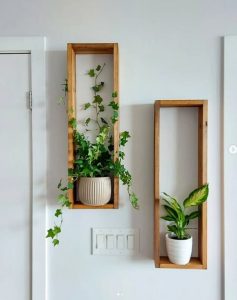 31. Nursery Closet Shelving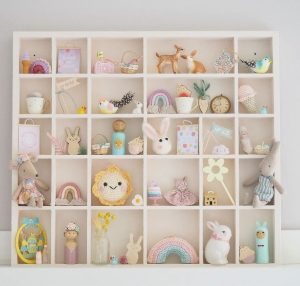 When choosing shelves for nursery storage and organization, you don't have to settle for boring. With these attractive nursery shelves, you can create the perfect space for your baby, which you both will adore.
FAQs
what to put on nursery shelves?
The most important thing to remember when designing your nursery is that it should be as practical as possible. This doesn't necessarily mean cuddly, cutesy or girly, either. It means a place where you can store the kids' toys, napkins, books, picture frames, baby feeders, baby clothes, and much more.
How high to hang floating shelves in nursery?
Do you know how high to hang floating shelves in nursery? The best nursery shelves are usually mounted above the baby's reach, but at a level where they can easily be seen. This way baby will be happy and the parents won't spend all day picking up clutter. The best height is 16 inches.
How do you hang a bookshelf in a nursery?
Comes down to this is a DIY project for you and your child. Locate the studs in the nursery and run a piece of wire between them. Secure the wire to the wall with a hammer and nails. After that, simply drill the holes in each shelf and then mount your bookshelf via nailing them in place.
Where do you put books in a nursery?
Nursery shelves are used to store everything from books, toys, picture frames, and clothes. The best place for books in a nursery is on one of the shelves above the baby's reach. Above is always the safest place, especially when there is a lot of stuff in that room.
Conclusion
If you have wanted the best DIY nursery shelves, then we have listed above the best options for you. You now have the ability to make your best nursery wardrobe with shelves, hanging rails, and corner shelves.
With color and pattern, you can create the perfect nursery for your child. Shelves for nursery rooms allow children to keep their toys, books, and other things to feel special about their room as they grow older.