With winter fast approaching, it's time to tackle the clutter and prepare for the colder months ahead. That's where our focus turns to sheds – those unsung heroes of home organization. Picture a space where your garden tools, patio furniture, and winter equipment find a secure home away from the atmospheric elements. Intrigued? You should be!
Well, we mean no frills, no fuss – just straightforward, professional guidance.
In this comprehensive guide, we're going deep into the world of sheds and providing you with key considerations for having an outdoor storage shed in preparation for winter.
Important note: If you need assistance in constructing a new outdoor storage shed, consider opting for top-quality providers like Keen's Buildings among the many available.
Why Do You Need An Outdoor Storage Shed For Winters?
Winter doesn't have to mean chaos. When you invest in the right shed, you're not just organizing your space; you're also enhancing your entire winter experience. So, grab your favorite hot beverage, settle in, and let's navigate the path to a clutter-free, cozy winter together. Your organized and peaceful winter oasis awaits!
But if you still aren't convinced why you need to buy a storage shed for winter, look at these reasons:
1. Your Own Designated Space for Seasonal Items
The winter season often requires extra storage space for items like snow blowers, shovels, winter sports equipment, and holiday decorations. A dedicated storage shed can help you keep these items organized and easily accessible. It can also protect them from the elements, which can help them last longer. Sheds come in a variety of sizes and styles, so you can find one that fits your needs and budget. They are also relatively easy to assemble, so you can have one up and running in no time. If you are looking for a way to declutter your home and keep your belongings organized, a shed is a great option. Not to mention it's a great place to store your home tools.
2. Protect Your Outdoor Furniture
Another great reason for considering a storage shed is to store your garden furniture. If you have any outdoor furniture, be it swings or garden chairs, storing it in a shed during the winter can extend its lifespan and protect it from snow, ice, and freezing temperatures. Not only that, you can also the shed to store items during rainy seasons.
3. Your Personal Winter Storage Solution
Even though having a storage shed always comes in handy. But it offers a dual advantage during winter seasons. Firstly, it's a haven for your garden tools as well as seasonal equipment, safeguarding snow removal gear and gardening tools from the harsh weather. It keeps your shovels, snow blowers, and lawn care essentials in optimal condition, so they're ready for action whenever you need them.
Secondly, a shed acts as a dedicated space for your festive spirit, neatly organizing holiday lights, ornaments, and inflatables. With everything in one secure spot, accessing both your seasonal equipment and decorations becomes effortless, making every winter storage task and celebration a seamless experience. So, having a storage shed is undoubtedly a blessing during the holiday seasons as you can store away all the extra stuff in it.
4. Space for Winter Hobbies
If you enjoy winter hobbies like ice skating, skiing, or snowboarding, a shed can serve as a convenient storage space for your gear, ensuring it stays in top shape.
5. Easily Customizable
Did you know you can even get your storage shed customized as per your liking? There are many shed-selling companies out there that offer customization of storage sheds. So, before buying one do check with the company if you want to get customization. They even have a 3D tool that can help you in customizing your shed.
However, when you're going to get your storage shed customize you must pay heed to factors like size, style, and color to ensure it complements your property. Because in the end, we don't want our storage sheds to not stand out from our homes, right?
6. Extend the life of garden tools and equipment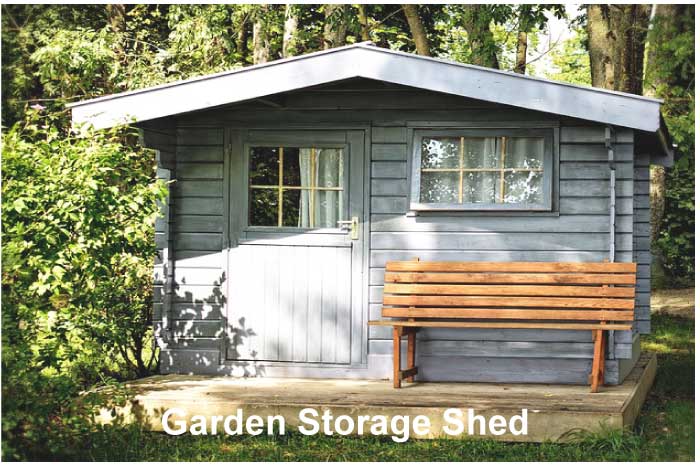 Investing in a high-quality storage shed isn't just about tidiness; it's a practical move that significantly extends the life of your valuable garden tools and equipment. Leaving your tools exposed to the harsh winter elements can lead to rust, decay, and reduced functionality. By providing them with a sheltered space, you're ensuring their longevity. Proper storage keeps your gardening essentials dry, prevents rusting, and shields them from extreme temperatures. This not only saves you money in the long run but also ensures your tools are always in top-notch condition, ready for action when spring blooms once again. A storage shed isn't just a convenience; it's a smart strategy for preserving your gardening investments.
7. Maximize Indoor Space
When winter arrives, every inch of indoor space becomes precious. That's where a storage shed steps in as your winter savior. By utilizing outdoor storage effectively, you can maximize the space inside your home. Instead of cluttering up your garage, basement, or spare room with seasonal items, garden tools, or patio furniture, you can neatly store them in your shed.
This simple shift can transform your indoor space into a clutter-free sanctuary. Imagine having your car snugly parked in the garage, or having that spare room transformed into a cozy winter retreat. With a storage shed taking care of the outdoor essentials, you reclaim your indoor space for activities you truly enjoy, making winter a season of comfort and relaxation.
8. Peace of Mind
Last but not least, mental peace and clarity. Having a storage shed dedicated to storing your winter items not only keeps your belongings safe but also provides peace of mind. You'll know exactly where everything is when you need it most. This means that there's no more last minute scavenger hunts when the whole family is together to set up the Christmas tree.
The Takeaway!
Buying a shed in preparation for winter can greatly simplify your life during the colder months. Whether it's protecting your valuable equipment, keeping your outdoor spaces organized, or providing storage for winter hobbies, a well-chosen shed offers numerous benefits. As the winter season approaches, invest in a shed that will make your winter preparations more efficient and stress-free.