Everyone wants to have an exquisite backyard for relaxing or hosting friends and family. One way to create such a memorable space is by including niches like decks, patios, pools, or dining areas. Generally, wood is a universally accepted material for furniture, cladding, and wood decking. When you think about wood decking, wood is the main material that is used in the decking, seating, and dining space. One of the best ways to beautify your backyard is using a proper combination of wood deck and stone patio.
Nowadays, wood deck with stone patio combination is a popular choice that presents a variety of ideas for your backyard. Wood and stone go together as naturally occurring outdoor elements. There are also various ways in which they complement each other. To help you decide which stone looks good on a wooden deck, consider its texture, color, and grain pattern versus the wood material. There are many deck and stone patio ideas you can choose from. When looking for types of stones, natural stones like river rock, slate, basalt, and sandstone look good with a wood deck.
10 Wood Deck and Stone Patio Combination Ideas
1. Color matching: Wood deck vs. Rooftop and Wall vs. Stone Patio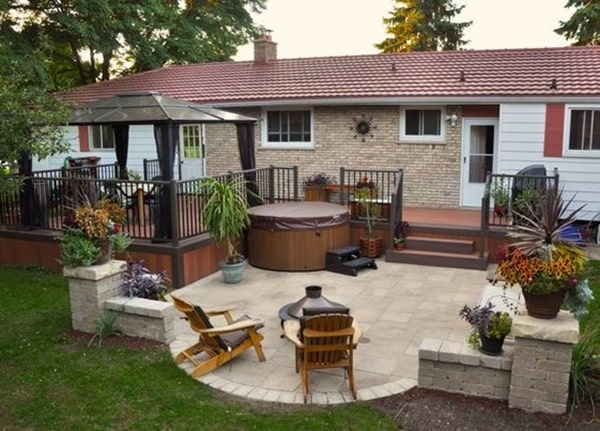 This is a simple show of how wood and stone combination complement each other when used on a deck or patio. If you are someone who always looks for the perfect color combination, you can go with this design idea. This design is perfect for color matching between the wood deck and rooftop and also the wall and stone patio that makes the backyard just awesome.
Read more: 10 Durable & Stylish Outdoor Flooring Ideas
2. Curved Wood Deck and Stone Patio
Both wood and stone tiles go well together in organic shapes. While shaped differently, both can work together in the curvilinear concept for your backyard. Play with different sizes and orientations of both materials to create an exceptional curved paving design for your patio. Other complimentary ideas that you can add to this combination include a gazebo, matching seating and planters with the same contrasting wood and stone materials. The warm tone of wood when combined with a stone patio is a great mix for a curved backyard deck design.
3. Curved Stone Patio with Central Fire Pit
A fire pit is a great idea for a patio, especially for those cool evening sundowners. Experiment with different shapes for your deck and patio for a unique backyard. A circular shape is quite popular, with the fire pit at the center. The dynamics from the straight wood deck to the curved stone patio is a combination that is worth trying.
4. Double Wood Decking with Stone Patio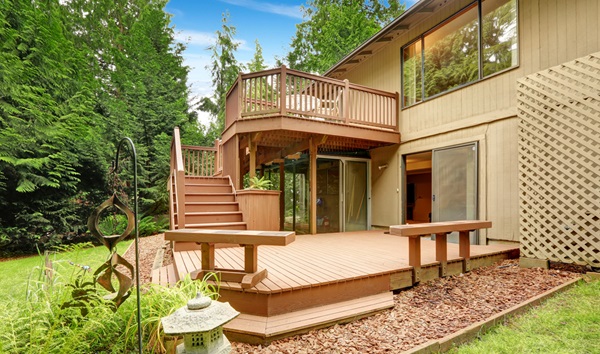 A combination of upper and lower wood decking with a stone patio can create an outstanding view of your backyard. The upper deck forms a cozy porch for the lower space or even an extra room for storage. With a different color of wood on the upper deck, the contrast of the wood to the stone patio draws attention upwards and is very inviting. With this, you can double the space of your deck, add more seating space and host more people in your party!
5. Lit Steps on Wood Deck
Just the same way wood staircases look elegant indoors, wood also goes well with stone patios. It is a creative way to overcome some of the challenges that come with having a sloping backyard. Try introducing steps with wood or stone treads or a combination of both! This is also a safety feature that will clearly illuminate where the steps are, especially at night. The lights also add to the general ambient lighting of your backyard.
6. Interchanging Wood and Stone Color
There are certain colors of stone that go well with wood. When trying out a wood deck and stone patio combination, it is best to go with darker-colored stone alongside dark-grained wood or light-colored stone with light-grained wood. It creates a sense of cohesion between the two very different materials. The opposite can also work well because a light-colored stone will contrast well with dark-grained wood as displayed below. This shows that you can put the stone on a wood deck and vice versa.
7. Stone Patio as Transition from Wood Deck
A stone patio is a good transition from your wood deck to the rest of your backyard lawn. Wood and stone as natural elements go well together and hence the change from one material to another can be seamless. Like the example below, you can have an elevated wood deck that goes to a stone patio that transitions into intermittent paving and eventually grass. The material palettes through this transition are richer due to the transitions.
8. Wood Back Drop
Wood can go well together with stone patio, especially when used as a backdrop. As opposed to the traditional design where wood is primarily a structural element when used as a backyard fence, try using it as cladding to an existing wall. This allows the wood to remain as a polished ornamental feature. There are exciting ways to enhance a wood backdrop, including adding wall lights along the perimeter. Your home's exterior can be instantly upgraded with this wood and stone patio combination.
9. Stone Pebbles around the Wood Deck
Stone pebbles, especially river stones, add an interesting texture to your stone patio. The rough texture and appearance created by stone pebbles can be smoothened out using polished wood. This wood can be either your seating, a table for refreshments or a feature on the wall. The combination is a natural feel with the extra feature of stone texture created by the pebbles.
10. Wood Upper Deck on a Stone Patio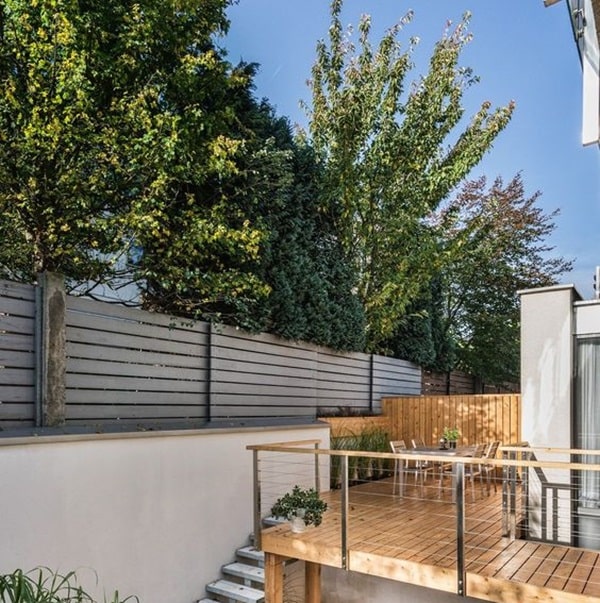 Wood as an upper deck is a great addition to a stone patio. This wood and stone combination adds great contrast and material variety to an outdoor space. Add stability with a stone patio and earth-tone accents with wood furniture, planters, and an upper deck. The contrast of the wood to the stone patio draws attention upward and is very inviting. With this, you can double the space in your backyard and host more people at your party!
How to Take Care of a Deck and Patio
When considering a wood deck and stone patio combination, you will need to prepare for proper maintenance of this new space. First and foremost, avoid mildew on your wooden surfaces by using a biodegradable outdoor cleaner routinely. To wash the rest of your deck, a simple garden hose with water and detergent will do. Pressure washing may also work so long as the aggression does not damage the wood. Sweep off leaves often, polish the wood and wire-brush the stone to keep your deck and patio sparkling new.
If you require additional assistance, don't hesitate to seek help from one of the top service providers in your area. For example, you can click here for more information.
Conclusion
There are endless ways to explore the wood deck and stone patio combination. When well-maintained, the shapes, colors and texture that both materials offer can be utilized in creating exciting and unique deck and patio designs.