Do you ever think about making your outdoor space look stunning? If the answer is yes, outdoor flooring is something you must consider to enhance the beauty of your outdoor area. There are many materials you can use for an outdoor floor, but it's important to check their durability as well. The choice of materials for your outdoor floor can greatly impact the ambience of your house, as it becomes the face of your home to guests. You can apply outdoor flooring in your front yard or backyard, and it's essential to customize the ideas to match the overall feel of your desired home aesthetic. Here are ten durable and stylish outdoor flooring ideas that can inspire you.
1. Poured concrete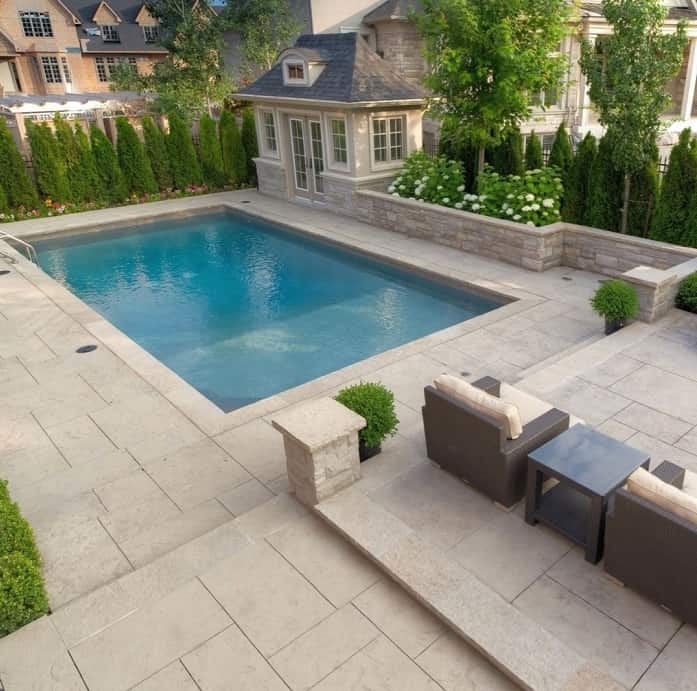 Poured concrete is one of the durable materials for outdoor flooring. Even though it's named poured concrete, you must build a structural slab for the concrete. It becomes a support for the floor. Not just any slab, it needs to be capable of supporting applied loads without cracking or deforming. After that, you can pour concrete and cure on site. Later you can add stamps for different patterns on poured concrete before it cures.
Read More: Types Of Flooring You Can Select For Your House
There are also different kinds of finishing on the poured concrete. As the poured concrete cures, it has a hard surface. To have a smooth surface, you can polish the concrete or coat the concrete floor with resin. Ask a professional to have the best results for your outdoor flooring.
Poured concrete floor is durable and can last a lifetime. It is resistant to water fire and corrosion. This floor is also low maintenance and easy to clean. However, this concrete floor is troublesome to repair if there are cracks on the floor.
2. Brick pavers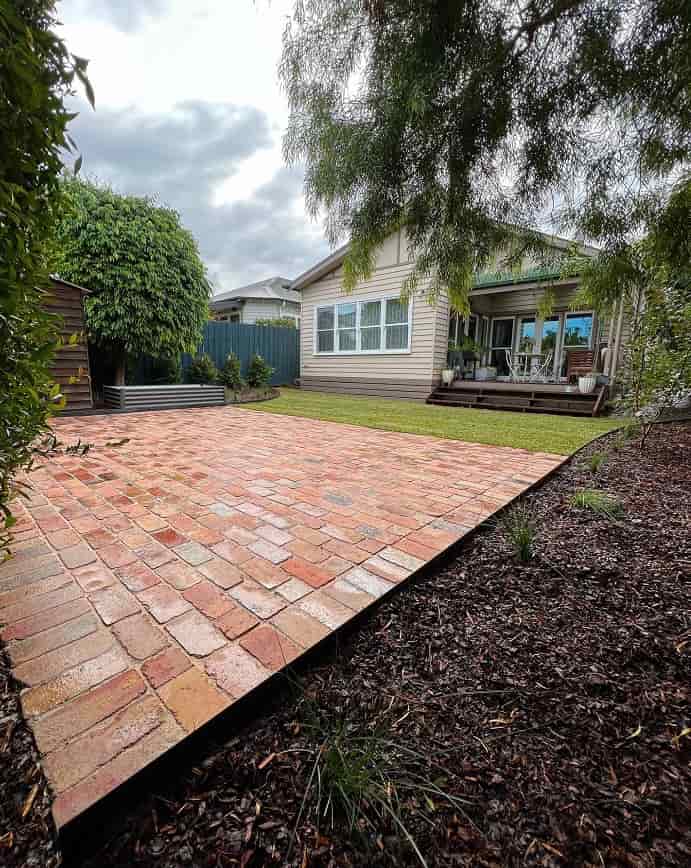 Using brick as a floor on an outdoor floor can give a natural look to your house. If you design your home with exposed brick, this floor can complete it. Rustic and old-fashioned atmosphere fulfills your outdoor appearance. Brick pavers are durable and cost-effective because this material is also easy to find and use for many purposes. You can also request a unique shape for brick pavers if you want a different style on your outdoor flooring. Because of its rough surface, it is also slip-resistant and environmentally friendly.
With brick pavers, you can choose a brick layout that suits the outdoor atmosphere of your home. But you must remember a thing, a complicated brick pattern or shape will also be hard to find later if you need to replace one or two of your cracked brick pavers.
3. Artificial grass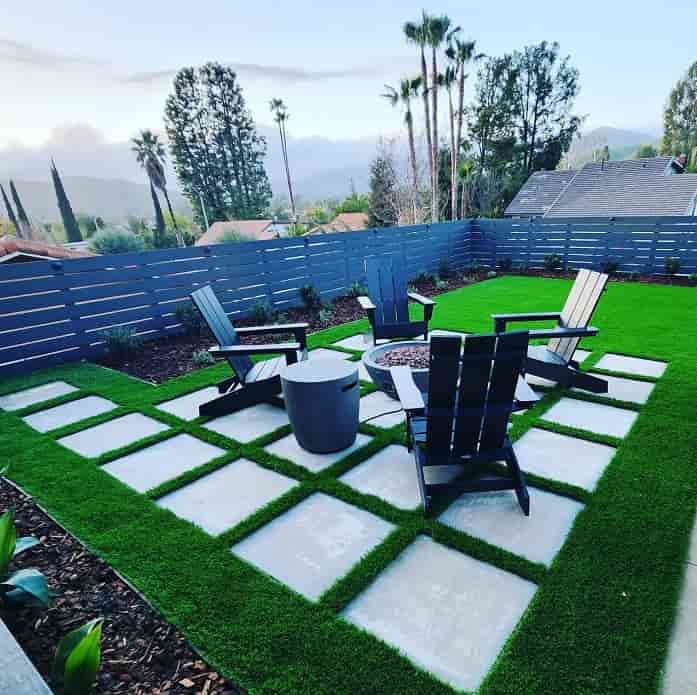 Artificial grass is a choice if you want to have a grass look on your outdoor floor. It is easy to install and easy to maintain. Brush it once a week to keep it clean. Using artificial grass means you must choose the suitable grass for your need. Not just low maintenance, it is also durable and gives a green look to your outdoors. Artificial grass can be expensive depending on the square footage of the surface you need to cover.
For the base, before you set artificial grass, you can have a concrete base or crushed rock underneath. Artificial grass also can mix with pavers on your outdoor floor to make a variation and stylish look with other outdoor flooring ideas.
4. Natural Stone Pavers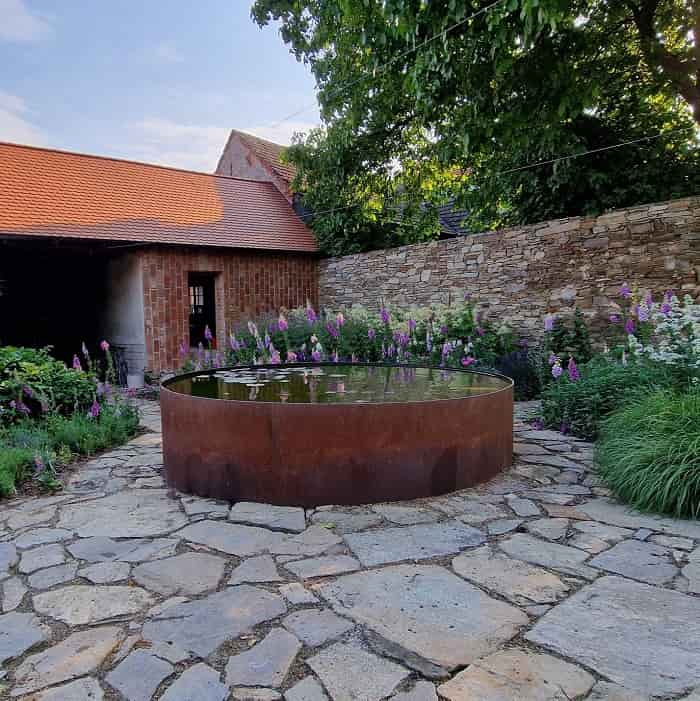 A natural stone paver is also one of the perfect choices to create a natural-looking outdoor floor. This material is durable and eco-friendly. Even though the surface is rough, it is the main point of using natural stone pavers. Natural stone pavers come in various shapes and colours. It gives you many options to choose the best for your outdoor flooring.
Natural stone pavers are more expensive than brick or concrete pavers because they form naturally. Both bricks and concrete pavers are precast but not natural stone. It is an eco-friendly material and is also resistant to weather change.
5. Composite Wood Deck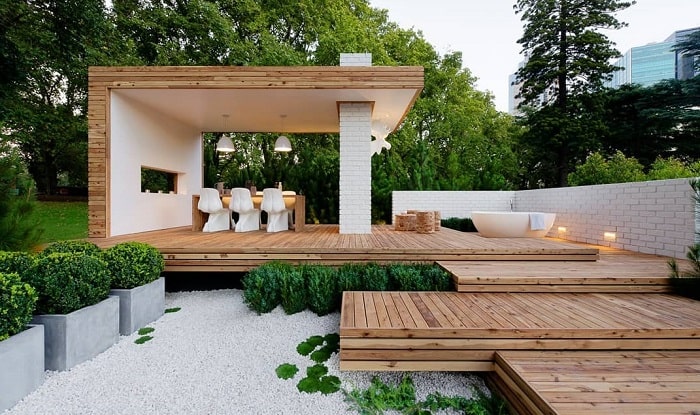 Wood decks can give a classic and exotic appearance to your outdoor area. A composite wood deck would be a great choice rather than an original wood material for outdoor flooring ideas. Original wood materials are not durable and can be affected by weather changes. Unlike the original, a composite wood deck is long-lasting because it consists of wood fibres or lumber particles blended with plastic. It is not original wood but already use for several products in homes and construction like flooring and furniture.
Composite wood decking is durable and resistant to weather changes. It does not rot with frequent exposure to water and does not discolour due to excess sunlight. This material is also easy to install as it comes with joints. There are also various colours to choose from. Due to its wood-like appearance and durability, it can be a good choice for outdoor flooring ideas.
6. Vinyl Floors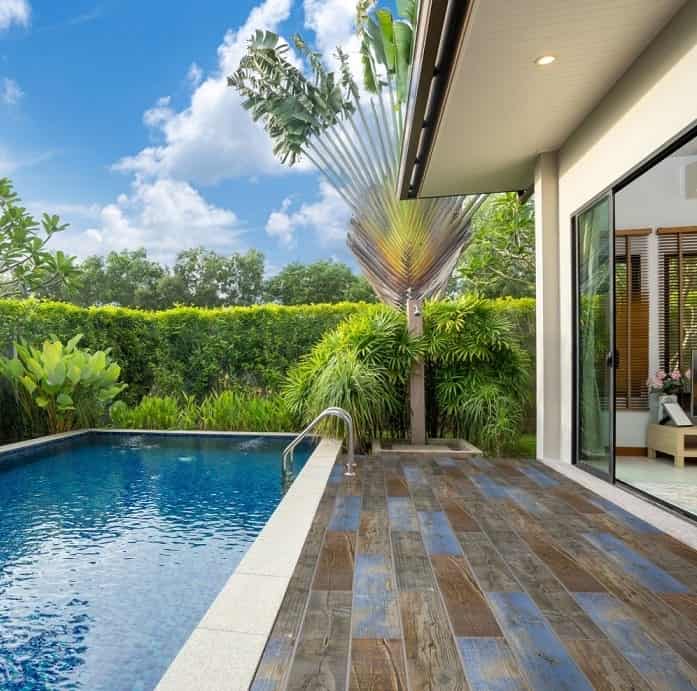 With another natural look floor, vinyl floors can be a choice for your outdoor flooring ideas. This synthetic floor made from Polyvinyl Chloride (PVC) makes this floor flexible and durable. Vinyl floors can imitate natural hardwood or marble appearance. Easy to clean and also water resistant. This material comes in planks or sheets. It is easy to install even though without professional help.
Although very durable and long-lasting, vinyl can also be affected by sharp objects such as knives. Plus, if you put something heavy on it, it can bend. I recommended that if you're choosing vinyl for an outdoor area, ensure there is a patio so that your vinyl floor is not exposed to excessive sun rays, as the colour can change due to the lack of an anti-UV coating.
7. Porcelain Tiles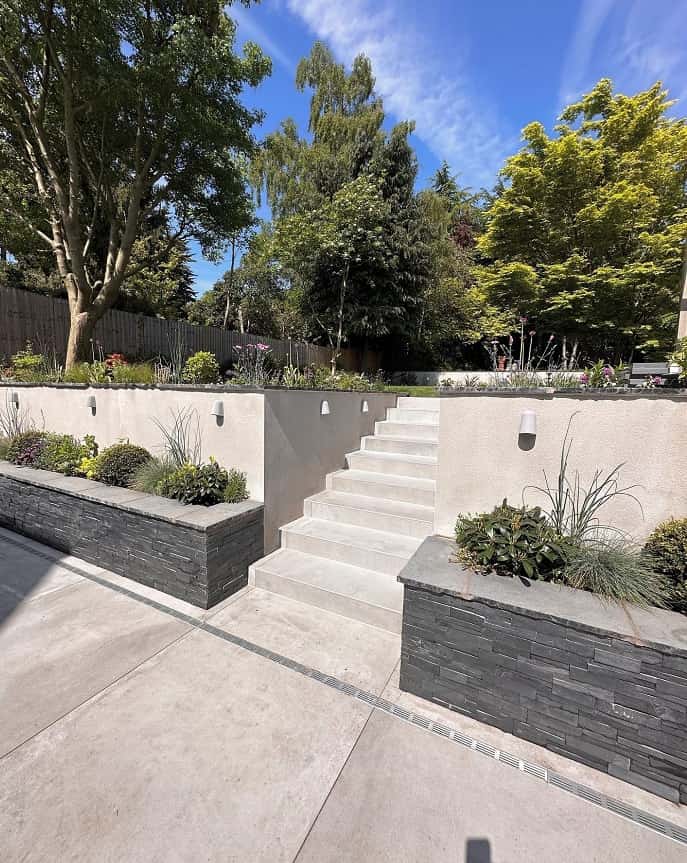 You can find the use of porcelain materials in various home needs. Not only for flooring, it is also used in tableware or decorative ornaments such as urns. It gives a modern and luxurious look due to its shiny polish. Porcelain tiles consist of white clay that includes a complicated process in several stages at high temperatures. This process makes porcelain durable and has a smooth surface. It is easy to clean porcelain as floors. It also has a wide range of styles to choose from.
To cut porcelain tiles, you need professional equipment. That is why you need to hire a professional to install these tiles. Porcelain is considered an expensive material for outdoor flooring ideas. It is also heavier than ceramic tiles.
8. Ceramic Tiles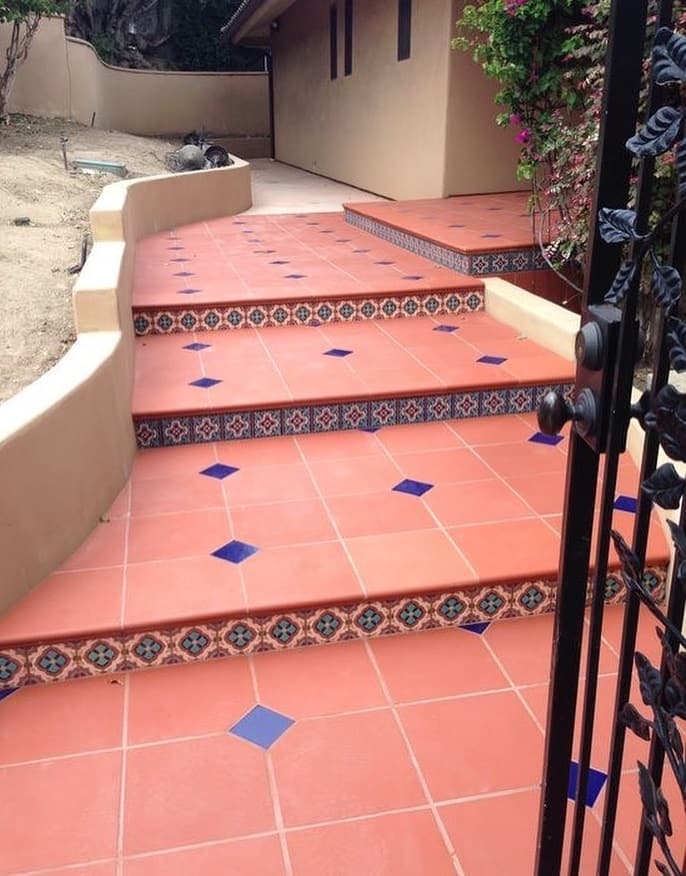 Ceramic tiles are flooring materials that can be seen often in various homes. It is because this material is affordable and easy to install. Ceramics consist of clay which undergoes a heating process in its manufacture. However, the process of ceramic manufacturing is less complex than porcelain. Ceramic tile is not dense. This characteristic makes ceramic tiles easily absorbed by water. You have to be careful as it can get eroded by water. You can replace the tiles in case of damage while the shape and model you use are still available.
There are two types of ceramic tiles from its finishing. The first type is the one that has a glaze coat top on it with a smooth finish, suitable for the living room. The other type is the rough top without a glaze coat that usually applies to garage floors, bathrooms, or outdoor decor.
9. Rubber Tiles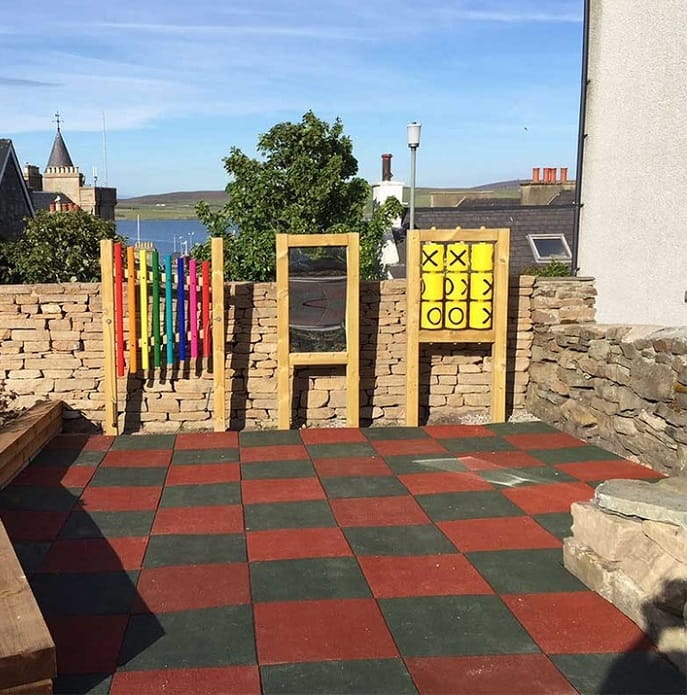 This unique material is so safe to use if you have children. You can use rubber tiles for outdoor playgrounds in your backyard. Not just for children, if you like doing sports in your outdoor area, this flooring idea would be perfect. It also comes in various colours and styles. You would not worry about your children falling on this ground. It is also low maintenance and easy to replace because it comes in pieces.
With those benefits, of course, the price can be more expensive than other materials. But if you want a natural appearance for your outdoor area, you need to reconsider installing these tiles.
10. Travertine Floor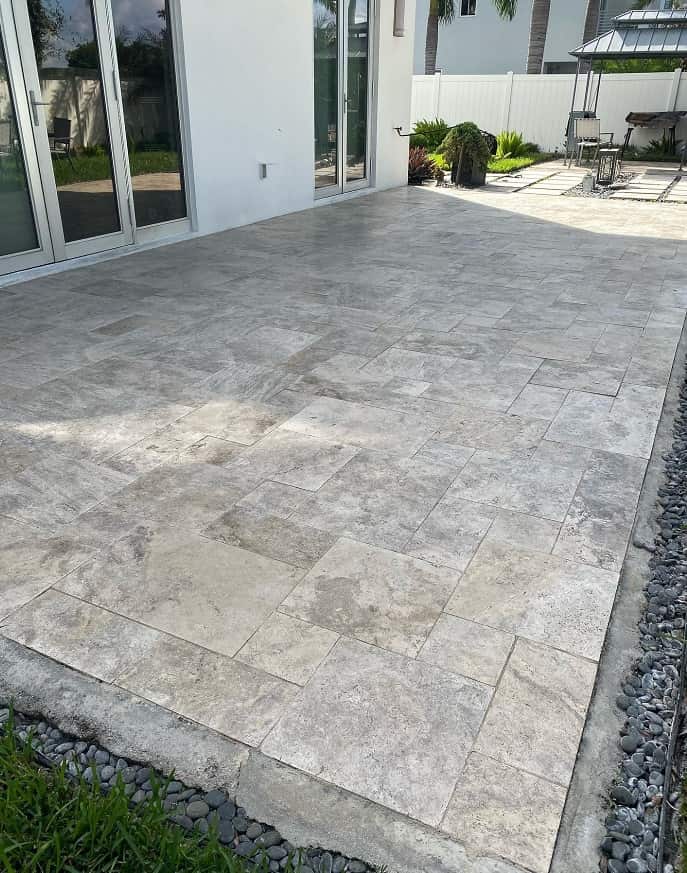 Travertine is a natural stone, more precisely, a sediment rock. It is part of limestone that has pores on the surface. Rough surfaces make travertine slip-resistant. You can also instal this around the pool in your backyard. It has white to beige shade colours and has various patterns. It makes your outdoors look clean and fancy. Travertine is durable and suitable for areas that have lots of activities. This stone is also easy to maintain. You need to mop it with water and soap.
Of course, behind the sophistication of this stone, travertine also has disadvantages as outdoor flooring. It will be hard to repair the damage that happened on the floor. It is also easy to scratch. This material gives a cool sensation to your feet if you step on it.
Conclusion
Having a stylish and beautiful outdoor appearance is something that you need. Your guests or neighbours can see your character from outdoor design. One element that you must keep in mind is the outdoor floor. There are various materials with different ambiences needed for outdoor flooring ideas. Not only stylish but outdoor flooring should also have high durability as the area will expose to sunlight or rain. Activities that happen in outdoor areas are also something that you should consider. From exotic, natural, and luxurious can be achieved with different materials that you use on the floor.