Laminate flooring is a popular option if you want the look of real wood but need easy maintenance and high durability. Laminate flooring also tends to be easier on the budget.
In this article, we'll go over some popular choices of the best blanched laminate real wood flooring and what it is. You'll also get a closer look at the pros and cons and tips on how to choose the best blanched laminate flooring.
What Is Blanched Laminate Real Wood Flooring?
Laminate flooring features thin layers of wood fibers pressed together and topped with a layer of resin. In regular laminate floors, manufacturers fuse a printed image of wood onto the top layer.
For laminate real wood flooring, the top layer is often a thin layer of real wood, typically maple or oak, pasted onto a fiberboard core. Blanched laminate describes the process of removing the wood's natural color using a bleach solution. The result is a whitewashed look that maintains the natural wood grain appearance and texture.
Pros And Cons Of Blanched Laminate Flooring
Before choosing the best kind of flooring for your home, it's important to consider the advantages and disadvantages.
The Pros of Blanched Laminate Floors
1. Stylish Appearance
Blanched laminate has a light, elegant look that exudes sophistication and a sense of natural beauty. It's a great choice if you're striving for an airy feel in your design.
2. Laminate Floors Are Durable
These are the floors for you if you want durable, scratch-resistant floors. Laminate flooring features a wear rating called the AC rating. Higher ratings provide excellent durability and stand up well to wear and tear.
3. Budget-Friendly
Blanched laminate flooring gives you the look of real hardwood floors at a fraction of the cost. If you're working with a tight budget, going this route offers more bang for your buck.
4. Easy to Maintain
The occasional damp mop and regular passes with a broom or vacuum keep your blanched laminate floors clean and looking amazing. These floors hold up better against moisture than real hardwood floors. Therefore, simply wipe up spills quickly and avoid excessive moisture.
Cons of Blanched Laminate Flooring
1. You Can't Refinish It
Blanched laminate flooring is durable, but not as durable as solid hardwood, making it more susceptible to dents or chips in cases of extreme impacts. Also, unlike real hardwood, you can't refinish laminate flooring. Therefore if your floors have a lot of damage, your only option is to replace them.
2. Not a Good Choice for Bathrooms and Other Moisture-Prone Areas
Although laminate flooring stands up better to moisture than real hardwood, it's still not an ideal choice for high-moisture areas. Therefore, most laminate floors aren't the best choice for places like bathrooms.
3. Limited Colors
Laminate flooring often provides a wide selection of styles and colors. However, blanched laminate floors won't offer as many design choices. Try samples of your favorites before making a final decision.
Some Of The Best Blanched Laminate Real Wood Flooring Ideas
Ready to give the green light on your new blanched laminate floors? Here are three stunning design options that inspire.
1. Herringbone Pattern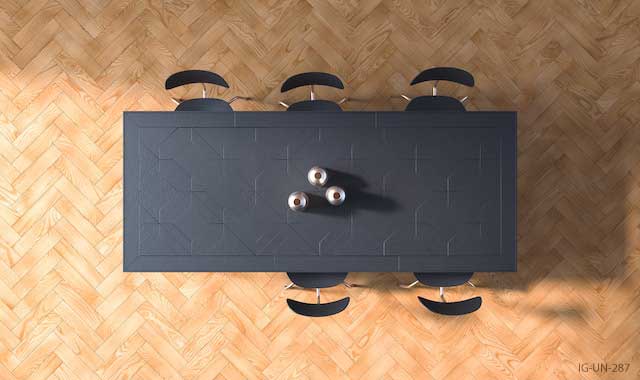 Laying your laminate floors in a herringbone pattern provides a timeless, sophisticated look to your space. If you desire a luxe look, this option is an excellent choice.
You can check a few more designs on the same pattern but with different tone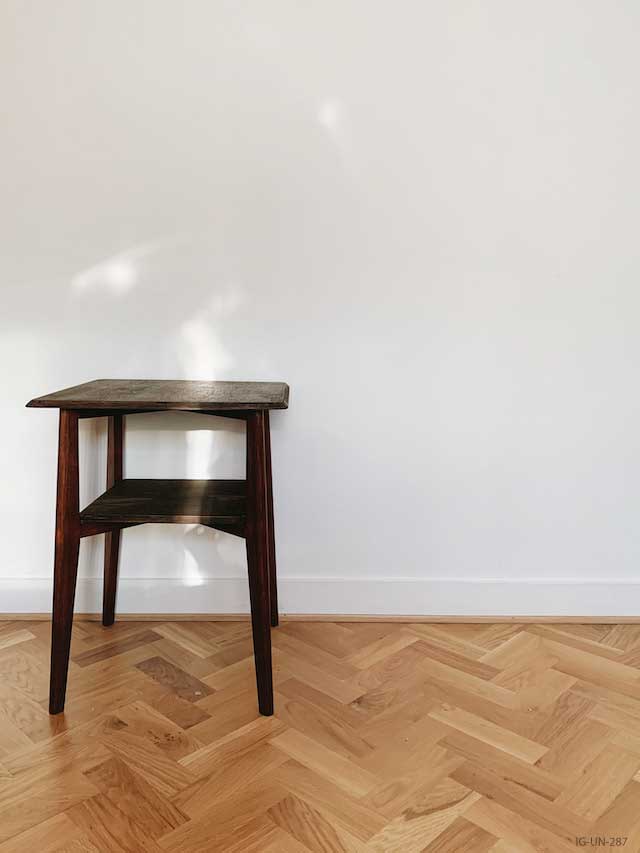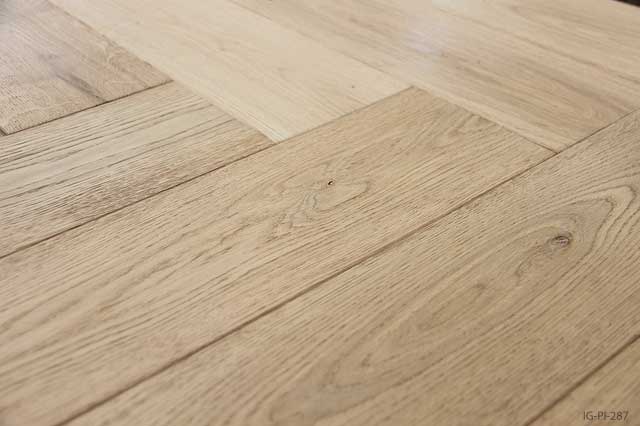 2. Chevron Pattern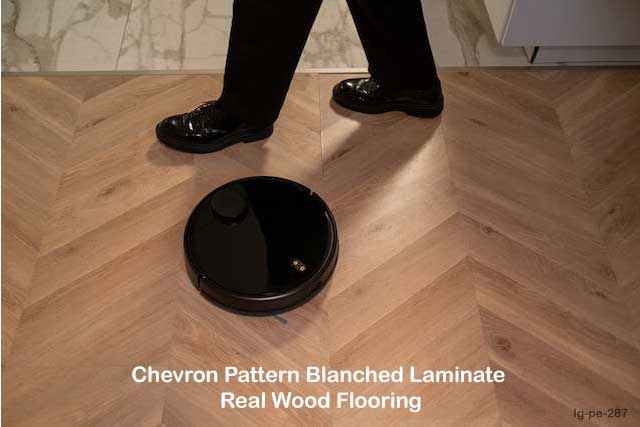 A chevron pattern is another classic design choice that gives your floors a more contemporary, modern edge. Although it resembles the herringbone pattern, it's not quite the same. The subtle difference is in the cut.
The herringbone pattern features 90-degree cuts, while the chevron pattern has 45-degree cuts. It's a small difference that creates a dramatic design change.
3. Two-Tone or Multi-Tone Floors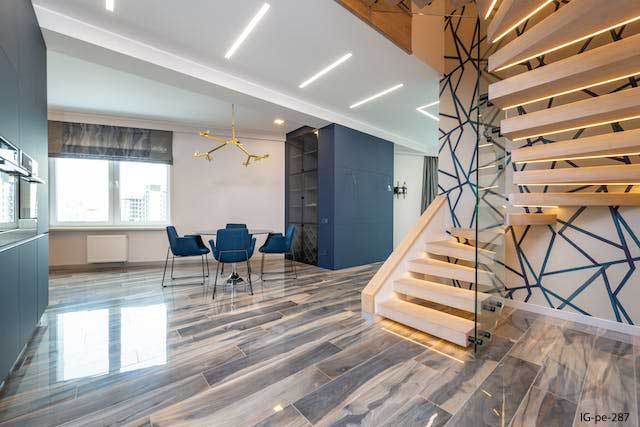 If you prefer a more eclectic look or want to add some contrast to your design, consider using different shades of laminate in a pattern of your choice. Choose colors that complement each other to create visual interest that makes an appealing statement.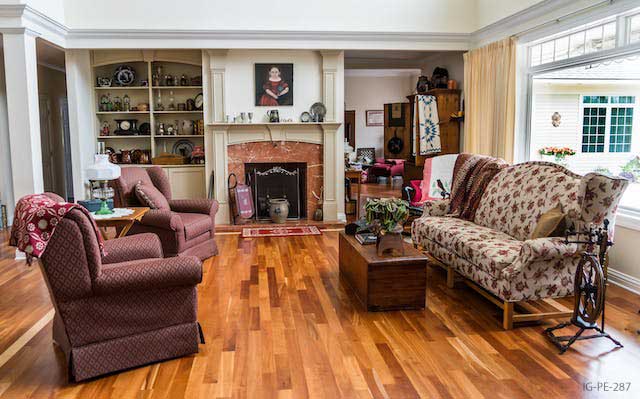 How To Choose The Best Blanched Laminate Real Wood Flooring
There are a few factors to consider when choosing blanched laminate floors.
1. Consider Your Overall Design When Choosing Color and Style
Choose a color and finish that works well with your design concept. In addition to various colors and wood grains, you can also choose from different finishes. Your design might call for a matte look.
Or if you're going with a more luxe or glam vibe, a glossy finish might be your top choice. It's important to factor in the size of your space. Blanched floors tend to make a space feel more open and airy, making them a popular pick for smaller spaces.
2. How Much Foot Traffic
If you're installing the floors in a high-traffic area, consider getting a thicker floor and one with a thicker wear layer (the resin on top). This extra thickness provides more durability. Choose floors with an AC rating that makes sense for your home and lifestyle.
3. Budget Specifics
Laminate flooring is a cost-effective option, but that doesn't mean it can't get expensive. Make sure to run your numbers and know how much you can afford. Let this number guide you when you're choosing the best laminate real wood flooring for your home.
Conclusion
Overall, blanched laminate real wood flooring is a great way to get durable floors that resemble hardwood at a budget-friendly price. Make sure to know the pros and cons before deciding. The floors you choose will likely stick with you for quite some time.