The dining area is a part of the house that homeowners must design well. This area is not only for families to get meals together but also to host a treat for friends or neighbours visiting the house. A dining table is one of the main points that can enhance your dining area. There are many types of dining tables that you can choose from. But for now, I recommend a modern concrete dining table to make your dining area more fabulous. A modern concrete dining table is trendy. It is also easy to adapt to many interior design themes. You can also combine a concrete dining table with a minimalist, industrial, or natural look for your dining area.
Inspiration For The 27 Modern Concrete Dining Table Designs
Here are some concrete dining table design ideas that can enhance your dining area with a different atmosphere:
Top 7 Modern Rectangular Concrete Dining Table Design Ideas
1. Off-white concrete dining table in off-white room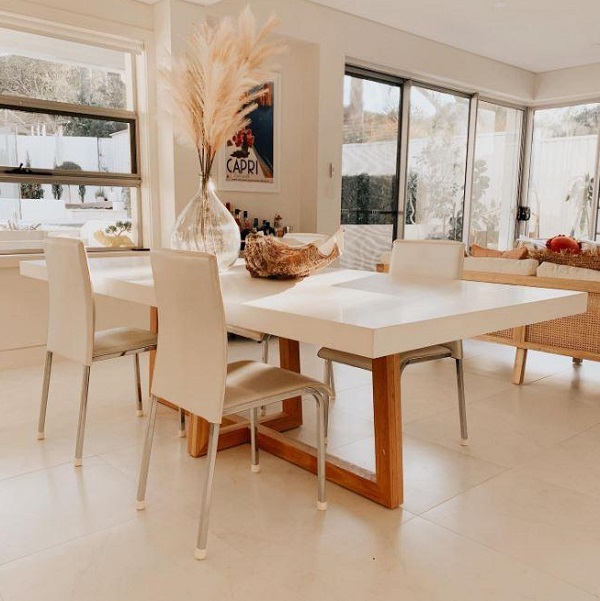 Having a clean look inside your house would be fine for concrete tables. You can paint the concrete dining table white and let a minimalist style decorate the room. White colour makes the dining area look clean and gives a spacious effect. A white concrete table makes your dining table look large enough to put various decorations and foods on it.
2. Matching black concrete dining table with room atmosphere
Matching colour with a theme in the dining room is a must. As you can see, the black concrete dining table fits perfectly with this room design. The kitchen set uses soft maple wood as a base and picks the black colour for vocal points in the room. The microwave, oven, and dishwasher are black in the area. That dark colour stands out, as does the black concrete dining table.
3. The faux concrete kitchen island as a dining table
The kitchen island is part of the kitchen that can have multiple purposes. Not just for preparing foodstuffs, it can also become a dining table like in the picture. This unique dining table has a faux concrete finish to highlight the signature colour of the concrete itself. If you only have little space in the house, choose this idea as an inspiration.
4. A stunning contrast ambience with a black concrete dining table
This black concrete dining table reminds me of a picnic table. With its rectangular shape, it has a set with a black concrete bench for sitting. Four persons can use it for dining. The design is also modern yet elegant. Not too large and not too small as a dining table for your compact house. The black colour creates a stunning contrast to the white wall dining area.
5. Grey concrete dining table with classic wishbone chair
A large concrete dining table combined with wishbone chairs looks attractive. Both have different colours and textures. The grey concrete dining table feels so light in a bright area. This area has a cold-warm atmosphere because of concrete and wood material. It is a perfect match. Both offer a convenient and timeless design idea.
6. Concrete dining table with unique table base structure
Steel structure for a concrete dining table also can be a highlight in the dining room. The geometry style in this idea looks fascinating. Not just unique, the steel base structure can hold the concrete top and distribute the load perfectly. It is so sturdy as a base for a dining table.
7. 10-seater concrete dining table with thin steel leg as a base
This long concrete dining table is suited for you who have many guests or like to throw feasts. This dining table has a capacity of 10 persons. You can serve plenty of food on the table. The thin steel legs base makes the space under the table quite spacious. This situation makes guests feel more comfortable putting their feet on the floor without worrying about being bumped by table legs.

Top 3 Modern Square Concrete Dining Table Design Ideas
8. 1.6m square white polished concrete dining table for eight persons
The square concrete dining table can make you and your guests feel close as you can see all your guests' faces while having meals. With this design, you can have more views and make it easy to interact with all guests. If you are interested in this design idea, you must have a large dining area to place this 8-seater large square concrete table. In this idea, the polished concrete dining table also has a shining appearance on its tops. Polished concrete makes it easy to clean after having feasts.
9. Concrete dusk dining table for four to eight guests
This square concrete dining table has an elegant design. You can see it from the colour and shape. As you can see, the concrete top has a dusk grey colour. That colour represents the material texture appearance. The concrete countertop is divided into four squares to attract attention. For a base, this table uses a central pedestal. It also makes room for guests' legs. A pure black cross-concrete pedestal completes this dining table design.
10. Large concrete dining table with twelve seater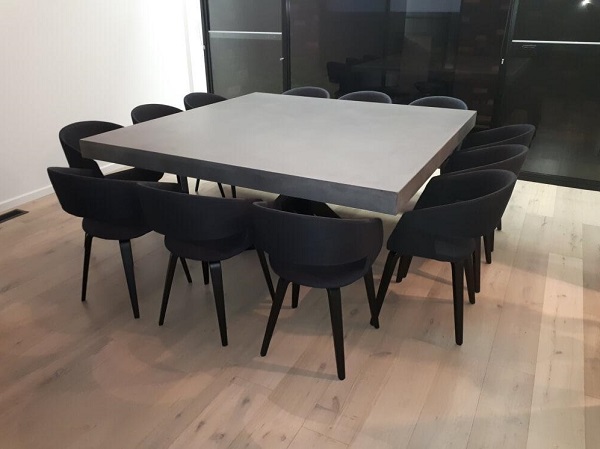 You can also have a large square concrete dining table if you want. Like the picture above, a square dining table of 1800 x 1800 cm can cover a capacity of twelve persons. Steel cross table legs in the centre of the table become a pedestal of the concrete table. Not only does it distribute the load well, but the pedestal also provides space for guests' legs below.
Modern round concrete dining table ideas
Top 4 Modern Round Concrete Dining Table Design Ideas
11. Round concrete table for four with unique pairing chairs
In this design idea, the dining table looks fancy and elegant. Four persons can sit in this dining area. You can feel the intimate feeling with all guests by eating together. The curved pedestal that expands at the bottom makes the concrete dining table sturdy. Another uniqueness in this design is the chair design. Pairing chairs have different shapes and colours. It adds colour so that the room is not plain.
12. Luxurious large round concrete dining table for eight persons
Similar to a square dining table for an 8-seater, this design also needs lots of space to place the table. The large round concrete dining table should also have a large concrete pedestal to hold the load from the top. This idea would fit in a modern dining room that is not rigid. Like in the picture, the wall has ribbed edges, making it less awkward in the area.
13. Small solid concrete dining table with tube base
This small concrete table has a solid tube as a pedestal, a big one. In the design, we can see that this table fits two persons because of the size. A solid concrete dining table looks modern in this area. It suits the room because of its compact design.
14. White elegant concrete dining table with comfy chair
Most round tables have the same form. Like this one, similar to the other one but bigger. The thing that can make a difference is the colour and finishing. This round concrete table has a capacity for six persons. The modern look is complete with six padded chairs. Comfy and sophisticated. Overall, this is an outstanding design idea that you can use both in indoor and outdoor dining areas.
Top 2 Modern Oval Concrete Dining Table Design Ideas
15. Pill-shaped concrete dining table with tube base
The pill-shaped concrete dining table looks gorgeous because of the chair set. This oval dining table is complete with a tube base as the table's structure. Eight persons can eat together at this table. The shape makes this table set look fabulous and flexible in the room.
Modern concrete dining tables combined with wood material
16. Oval concrete dining table with ribbed edges for 6 persons
Having an oval dining table can also be an option for maximising the use of the table. In this design idea, the dining table has a ribbed edge as a unique appearance. The base is also centred, making the same space for legs as guests sit on. You can use this dining table for 4 – 6 persons. Depends on what you want for your house.
Top 4 Modern Concrete Dining Tables Combined With Wood Material
17. Concrete top dining table with antique wood base
In this one, the round concrete top dining table has an antique base design. The table leg detail presents a mid-century modern appearance. You can add a bold colour like teal blue in the image to give more accent to the dining area.
18. Classic concrete top dining table with wood legs as the base
Here is a classic combination for concrete-wood dining tables. The grey concrete top gives a clean look to the table. This table design is perfect for a patio or terrace area. With wood benches and wood legs as a base, it is a match for each other. With benches as seat on it, this table design can suit four to six persons.
19. Wood in concrete dining table
Wood and concrete are a great and unique combination. Both materials have different feel and colour. Wood gives a warm vibe, while concrete gives the opposite impression. When making this table, placing a piece of wood in the middle table mould is the key before adding the concrete mixture.
20. White concrete dining table with wood for ten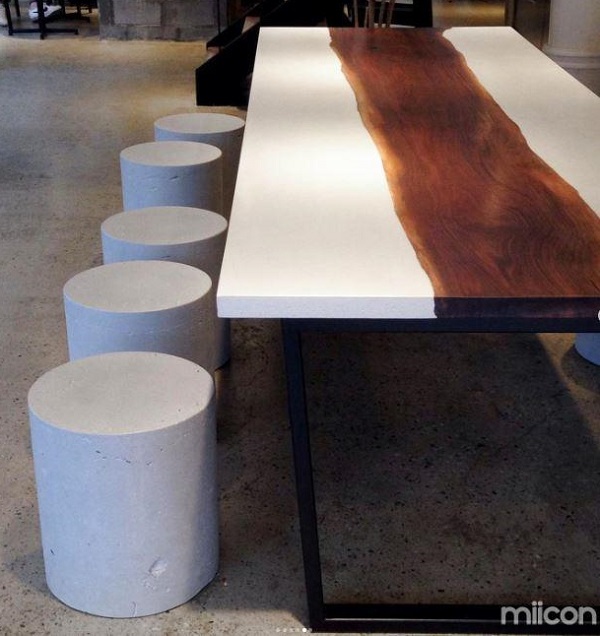 A combination of white concrete table top and dark brown wood contrasts. With that contrast, this design becomes an eye-catching design. This table is unique and built to be long enough for up to ten persons to use. Steel table legs make the table strong enough to hold the load. With concrete tube chairs, this dining table set looks amazing for outdoor areas.
Top Modern Outdoor Concrete Dining Table Design Ideas
21. White concrete outdoor dining table on the side garden
This white concrete outdoor dining table idea is quite eye-catching because the seating design on the side integrates with the outdoor flower bed. With the addition of several single seats and elongated chairs, ten persons can enjoy their meal in this area. The oval concrete table design makes it comfortable even for persons who sit on the edge.
22. Outdoor concrete-wood dining table with bench set
A unique dining table set would be easy to place in any dining area at home. You can see the concrete-wood combination on both the table and bench. It has a picnic vibe when you install it outdoors. You can use this dining table set for four to eight persons. This set will be a lovely piece in your green backyard. Even I want to have this in my garden!
23. Quary dining set on the patio
For those who like soft and natural colours, you can choose this concrete dining table idea. A round quarry concrete dining table looks fascinating with a modern pedestal. The quarry colour blends with the ground and outdoor atmosphere. Serene and comfy as an outdoor concrete dining table.
24. Concrete dining table with geometry shape chairs
As you see, you can have a variety of shapes with concrete as a material. The rectangular concrete dining table integrates with unique chairs, hexagon, and pentagon forms. The grey dining table set looks great in your outdoor area. The concrete dining table set will look like it blends in with nature with its grey colour.
25. Ultra lightweight concrete dining set for 12 persons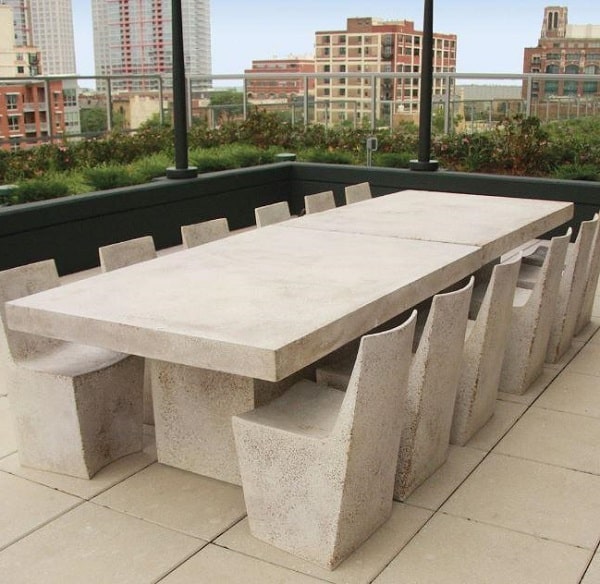 Having a set of this concrete dining table would be great for homeowners who love to invite friends. This concrete outdoor dining table is made for twelve persons which is a good choice for having feasts or barbecue parties. The dining table set has a feel and look of white concrete. Do not worry about the weight. The designer engineered it to be an ultra-lightweight concrete dining table set. It would be easy to move it around.
26. Cosy concrete top dining table with ash wood base for 6 persons
The Benefit of using concrete as your dining table is that you can modify it with an entertainment element. Like in the design, the concrete outdoor dining table for six has a burner pan in the middle. This idea can light the mood for everyone on the dining table. It also gives a warm ambience to the outdoor area. It is fascinating to have this dining table for your dinner.
27. Stylish concrete mixture dining table for your terrace or rooftop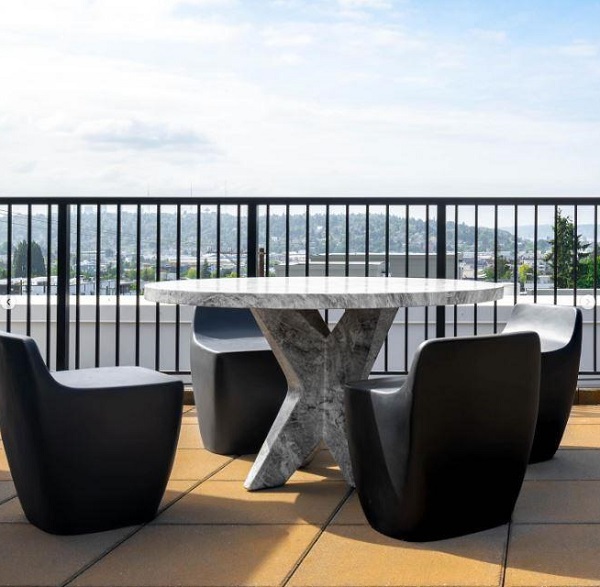 You can design the concrete dining table to resemble marble material with a concrete mixture. This round table looks stylish with its texture and colour. Four modern black chairs look so attractive in the design. You can place this dining table on your terrace or rooftop.
Conclusion
The concrete dining table design is a timeless furniture design. This table can give a modern appearance in the dining area. Even though it has a solid material, it also has a variety of shapes because you can create it with a unique mould shape. You can place a concrete dining table inside or outside. It has many advantages that are matters; durable and weather resistant. Although it has many benefits to choose this table, a concrete table also has disadvantages. Choose the right concrete dining table design that matches your dining area theme.