For many, a house is their sanctuary — a place to relax, feel safe, and make their very own. Designing your home can be lots of fun, but it can also present some challenges. You want to make your house reflect your personal style, but with so many options, where do you start? Check out our handmade craft ideas for home decor to find some easy and unique design ideas.
What Are Some DIY Crafts for Home Decor?
You don't need to spend a lot at fancy home goods stores to make a stunning statement in your house. Instead, with a bit of elbow grease and a dash of creativity, these handmade DIY craft ideas for home decor help you make your home the showpiece you want it to be.
Let these ideas be your starting point. You'll find handmade craft ideas for home decoration, links to step-by-step directions, and plenty of inspiration.
1. Wall Hanging: Handmade Craft Ideas for Home Decor
Finding the perfect artwork for your home can sometimes be a challenge. So, why not make your own? This paper wall art from Ohoh Deco is stunning and makes a bold statement. You'll need paper sheets in the color of your choice, a pencil, glue, a paper cutter, half-round wooden dowels, string, and push pins.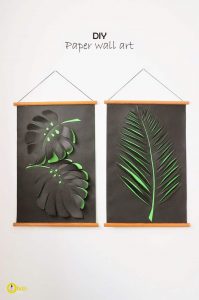 Sketch out your leaf design on one sheet and cut it, leaving it uncut in several places. Then, glue your cut-out to the other color piece of paper. Fold out sections of the leaf to give it a 3D effect. Glue the dowels at the top and bottom of the sheet, and use the string and push pins to hang your art.
Read more: Diy Bedroom Wall Decoration With Paper Craft: 5 Cute Ideas You Will Love
2. DIY Hanging Shelves
Looking for a great way to display your favorite trinkets? Create some handmade shelves like these beauties from Why Don't You Make Me? You'll need wooden boards cut to the size you want for your shelves. You can leave the wood unfinished, stain it, or paint it, depending on your style.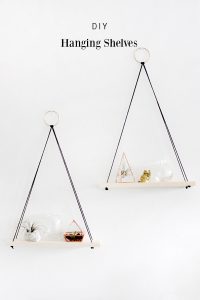 Drill a hole into each corner of the board, and using a metal ring and rope cord, create your shelf's suspension system. You can see the detailed directions by following the link above. After hanging your shelf, it's ready to show off your favorite accessories.
Read more: 31 Nursery Shelving Ideas You Will Love For Your Little One
3. Upgrade Your Rug with Tassels
Here's an easy and quick idea to give your area rug some extra oomph. You can use an existing rug or purchase a chunky rug at the store. Then, you'll trim out your rug using store-bought tassels(available at sewing or craft stores).
Or, to get even more DIY, make your own tassels like Earnest Home Co. Simply wrap some crochet yarn around a piece of cardboard or clipboard roughly 60 times. Then, use another piece of string knotted around the center on the front and back to cinch the wrap.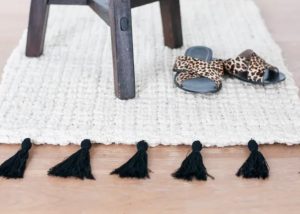 Snip the tassel at each end to remove it from the board, then use yarn to knot around the top and create the "head." Finally, attach your newly created tassel to your rug using the ends of the top knot. Repeat at regular intervals on your rug with as many tassels as you want.
4. Make a Rustic Vase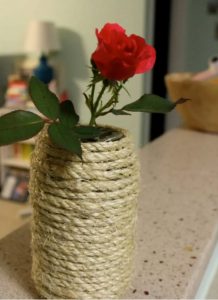 You can repurpose any container into this rustic-inspired vase using plain rope. Charleston Crafted uses a mason jar, hot glue, and rope to create the perfect addition to a farmhouse-style design. It also works well with nautical styles or a coastal theme. You can take the same idea and create other looks using colored rope, string, twine, or yarn.
5. Turn a Shirt Into a Pillow
Don't toss out that old button-up shirt! Instead, grab a pillow form from the craft store or an old, worn-out pillow from home, and make a trendy throw pillow. The SpruceCrafts shows you how in their step-by-step tutorial. They use a 14-inch pillow form and a men's large shirt.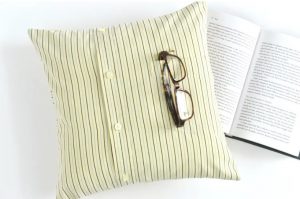 You'll need some sewing skills for this one, but it's worth it when it's done. It looks stylish while giving old things new life. Plus, the pocket comes in handy to tuck away reading glasses or the TV remote.
Are you feeling inspired and ready to start making some design magic happen? You can find tons of ideas for DIY wall decor, handmade craft ideas for home decor, and do-it-yourself accessories. These five ideas are sure to get your creative juices flowing and inspire you to start designing the home of your dreams.
6. Handmade Paper craft idea for wall decoration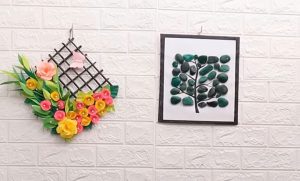 To make this handmade craft, you can follow the following steps or check this Vidoe tutorial
Step1:
Design a tree on the paper sheet, then Color the border of it.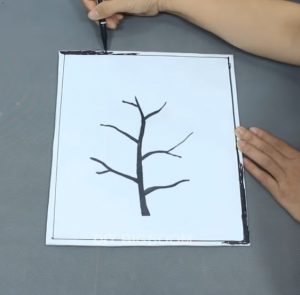 Step2:
Take a few stones then color them with the help of a paint sprayer. Finally, place the stones inside the designed tree on the sheet.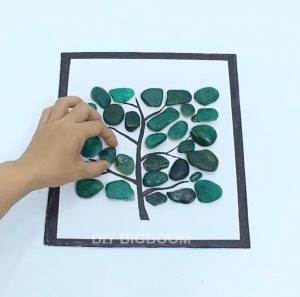 7. Handmade vase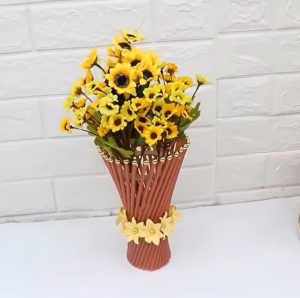 How to make it? Check this Youtube video to know the whole process or see the following image where I've mentioned all the steps in one image.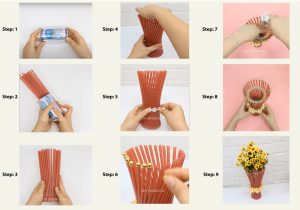 8.  Another cute handmade craft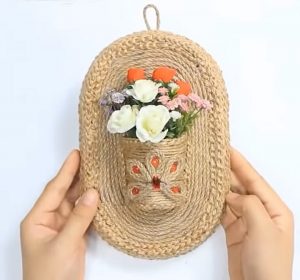 How to make it? Check this Vidoe tutorial or the following images where I've mentioned all the steps one by one.
Steps 1-9: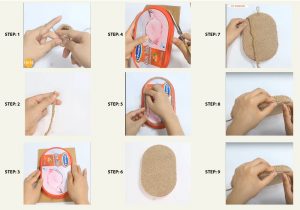 Steps 10-14: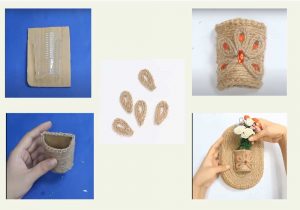 9. DIY Jute Home Decor/ Jute Craft Ideas/ Home Decoration Handmade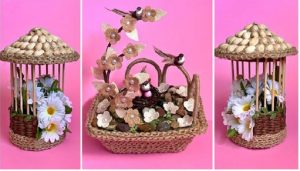 This video tutorial helps you to create these handmade crafts
10. Jute craft idea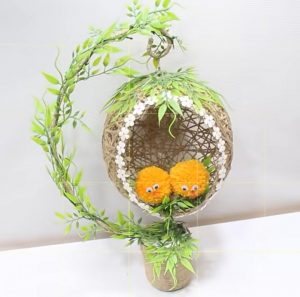 11. Home decor from branches and balls of thread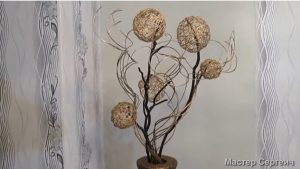 12.  Paper flower wall decor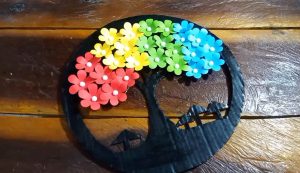 13. Quick and Easy Home Decorating Ideas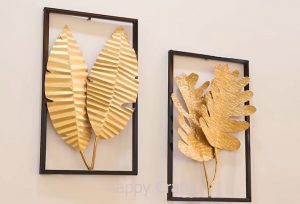 14. Cardboard Wall Decor Idea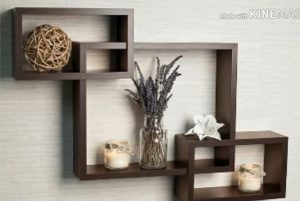 15. TRANSFORM A SIMPLE BUCKET INTO AN OTTOMAN WITH STORAGE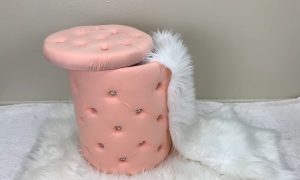 Hope you enjoyed the article? Do you have any creative homemade craft ideas for home decor? If yes, then please let us know through our contact page.  If you like the article then please let us know by commenting.
Related tags:
#handmade craft ideas for home decor
#wall decor handmade craft ideas for home decor
#wall hanging handmade craft ideas for home decor
#handmade diy craft ideas for home decor
Written by smtgoofy