Outdoor wall lighting accentuates your home, illuminating it and highlighting its architectural features. In addition, using exterior lights is a safety measure that prevents burglars and trespassers. They also improve your productivity, allowing you to carry out your outdoor activities when it is dark.
Outdoor lights are available in several types and styles. I will further discuss the modern outdoor wall lighting ideas that maximize the various outdoor light styles and types. You can fix the lights in several places in your home, including the balcony, garage, patio, porch, and ceiling.
How you fix your modern exterior house lights determines how lit your home will be. Consequently, I will discuss outdoor brick wall lighting ideas and tips to keep in mind when installing them. Kindly read on to find out.
Outdoor Wall Spotlights. (Emphasize your home features)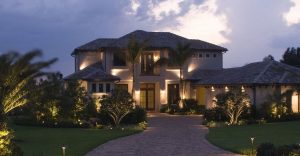 Spotlights have narrow beams that focus on one thing at a time, and they can emphasize a specific architectural or landscape feature in your home. Furthermore, you can add visual accents to your home, trees, and other outdoor areas with spotlights.
Outdoor Wall Flood Lights. (Improve your home's security)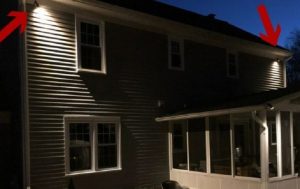 Like spotlights, flood lights focus on one thing at a time. However, they have wider beams. LED flood lights produce light similar to daylight, improving your home security. Furthermore, LED flood lights last longer than halogen flood lights, saving you money.
Outdoor Wall Up and Downlights. (Give your home exterior a subtle & dramatic natural look)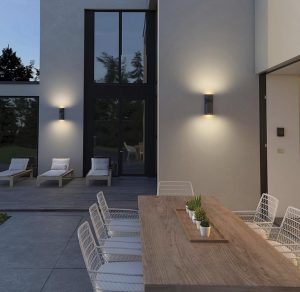 Up and downlights have bulbs at the top and bottom of a light fixture. The uplight highlights architectural features while adding depth. They also create beautiful shadows on your landscape.
On the other hand, Downlights give your landscape an extra layer of depth, creating a warm, welcoming feeling. In addition, you can illuminate pathways and outdoor seating areas with downlights.
Using up and downlights in your outdoor wall lighting ideas can give your home a decorative look while providing visibility.
Outdoor Wall Lights for Stairs. (Add a soft glow to your stairs)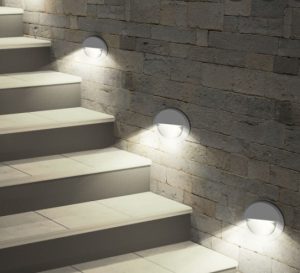 Apart from enhancing your landscape, step lights improve safety on your stairs in the dark. Therefore, you don't have to worry about tripping on the stairs. Furthermore, step lights give your stairs a warm and inviting glow.
Outdoor Garden Wall Lights. (Create a warm & welcoming atmosphere)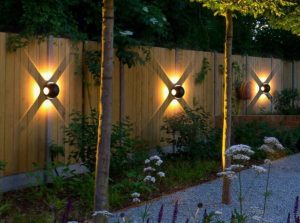 Highlighting shrubs, trees, and your home's architectural features improves your entrance appeal. You can expand your outdoor space and create an ambient atmosphere for your family activities with garden lights.
Outdoor Wall Bollard Pathway Light. (Aesthetically line your outdoor area)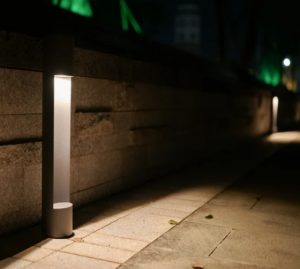 Bollard lights illuminate pathways in an aesthetically pleasing way. You can use bollard lights to light an outdoor area while adding safety and security to that space. In addition, you can brighten your garden and landscape with bollard lights.
Outdoor Wall String Lights. (

Create A Magical Outdoor Look)
You can illuminate your backyard, garden, and other outdoor areas with string lights. Because string lights are a series of small light bulbs in a string, they are suitable for decorations, parties, and romantic dates.
Outdoor Garage Wall Lights. (Easily navigate your garage)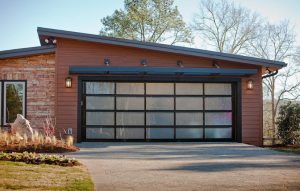 Garages are not well lit because they don't have windows – they are even the darkest part of the house. Whether you use your garage for work or as a storage space, you can use garage outdoor wall lighting ideas to improve illumination, helping you navigate the garage easily.
#outdoor wall lighting ideas modern exterior house lights